Thank you for taking the time to look at this page. Please keep scrolling down.
I'm extremely proud of the positive feedback messages I get, in the tuff times when my demons tell me "you're not making a difference, anything you ever do is a total waste of time" getting a new message saying I've helped someone or I'm 'brave' or 'inspirational' genuinely keeps me going.
I do all I do with no financial support at all, this has forced me to setup a PayPal account, if you can help support my work financially it will help take some of the unnecessary pressure off. If you have time please read this blog post "Cards on the table" in it I explain my situation in more detail. (Those of you who have read my stuff before will be aware of my 'individual' writing style….)
11th October 2017
logged into Twitter today to see this DM, having my motto quoted back to me…. Weird but VERY awesome….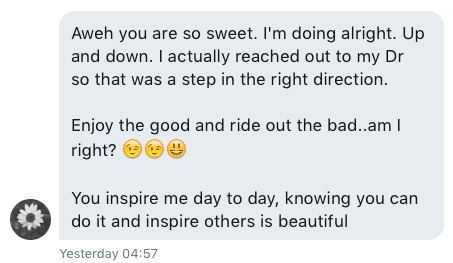 10th October 2017 (World Mental Health Day)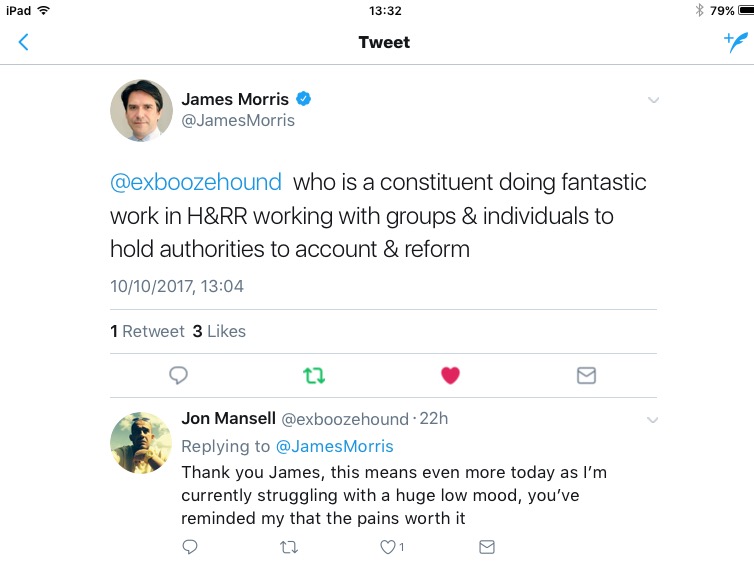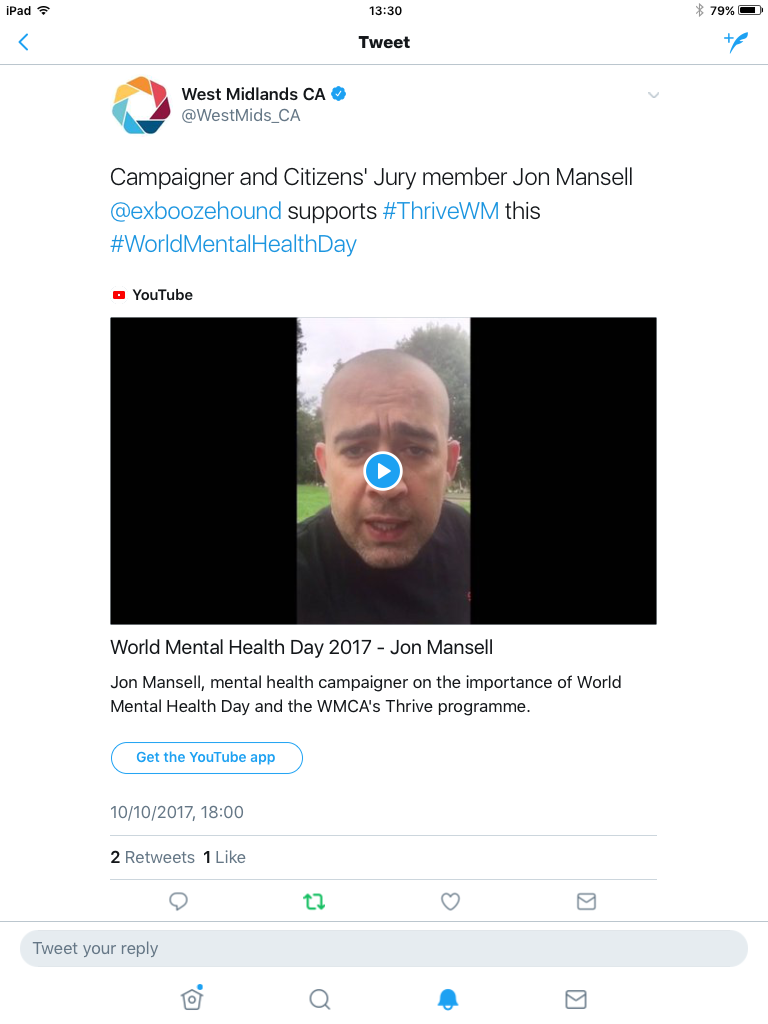 3rd October 2017
after a Dudley CCG meeting last week I posted….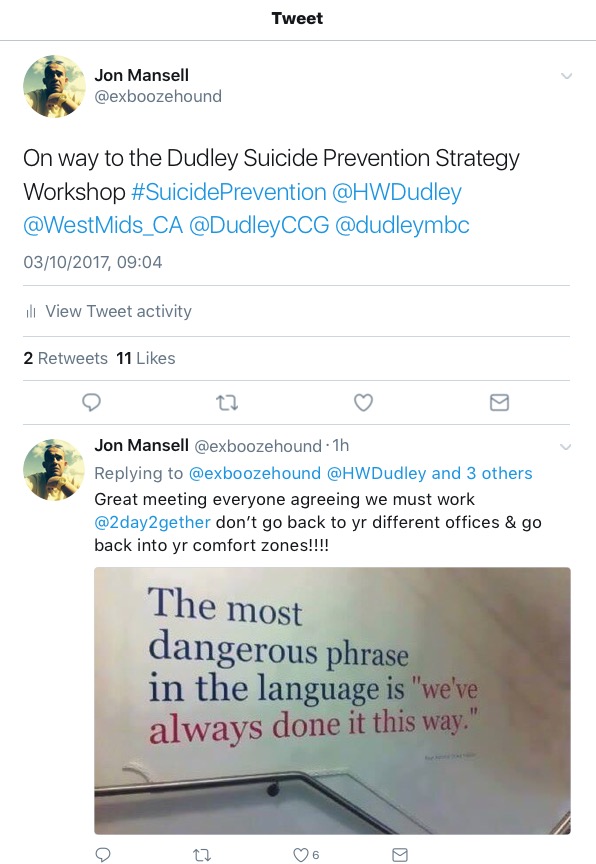 One of the responses I got was another proud moment for me, thank you Ade, thank you Bec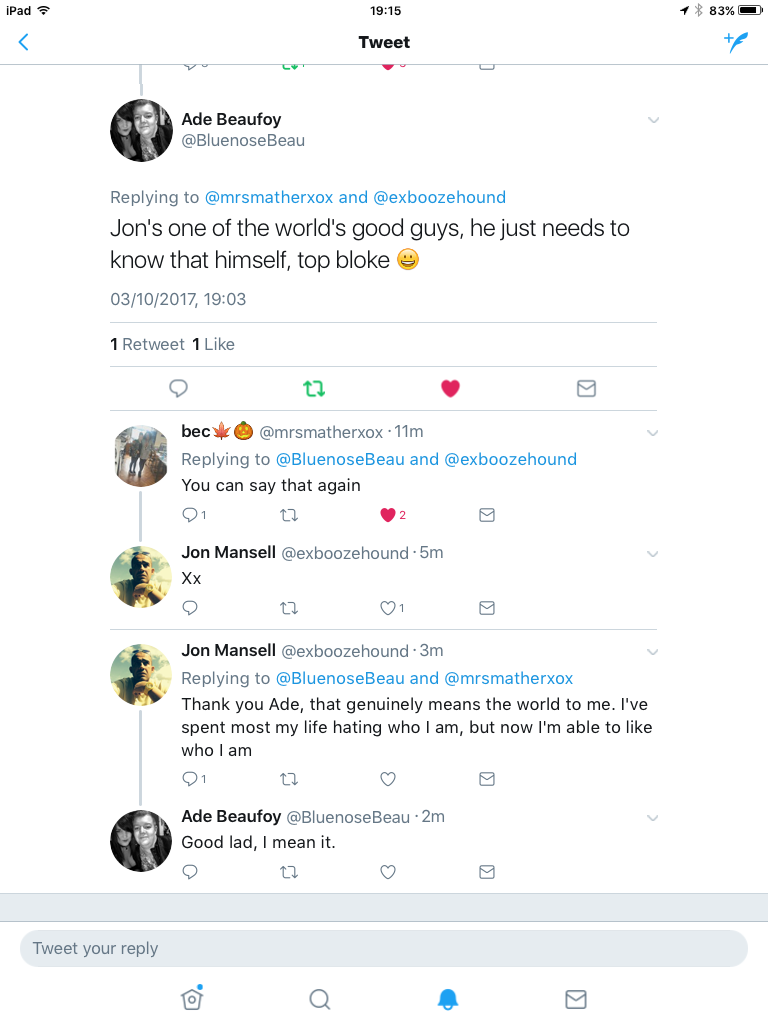 29th September 2017
proud to get theses tweets from the rozzers after recent meeting with them and then Vlogging "Working with the rozzers"
Another proud moment following the "Working with the rozzers" Vlog, the person who tweeted this asked to remain anonymous, I always ask permission to put stuff on this page.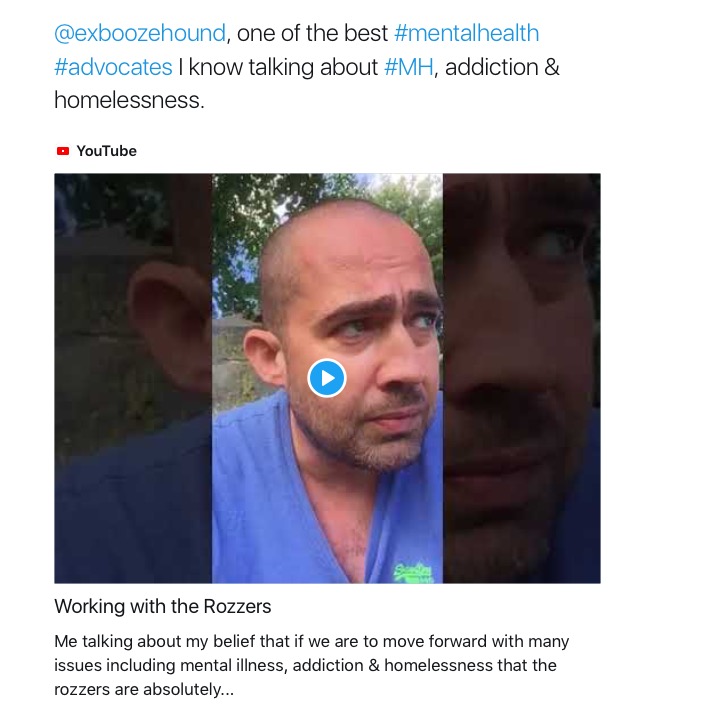 22nd September 2017
Another proud moment, thank you John for running the group yesterday and your reply to this Facebook post.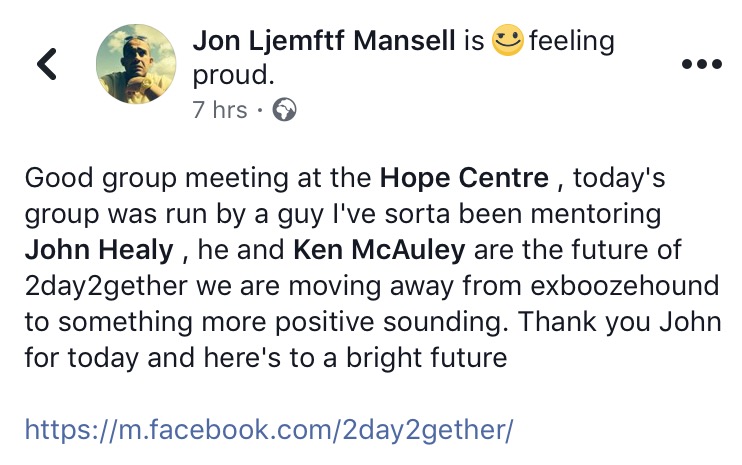 Another 6th September
just received this via Twitter DM, proving my global status, I'm talked about in NYC….. Woohoo!!! (yes global status is a little OTT but what the hell…. Even mentalists can big themselves up now and then)


6th September
Recieved this email this week, another proud moment….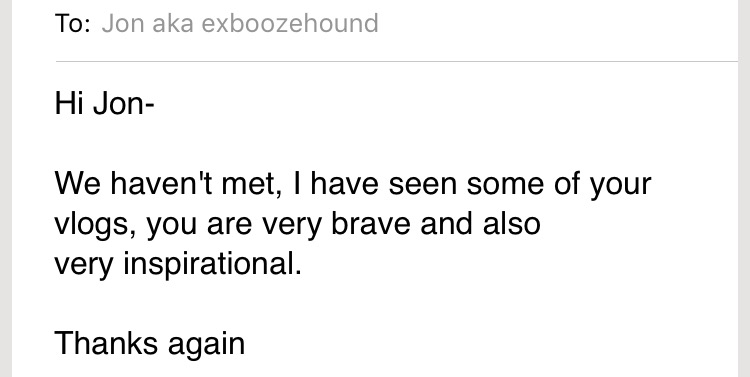 19th August 2017
I don't know Patrick at all but he tweeted me a reply recently with something I've said a lot to others over the years but very often forget myself…. the power of social media means you never have to struggle alone with your mental illness issues…. thank you Patrick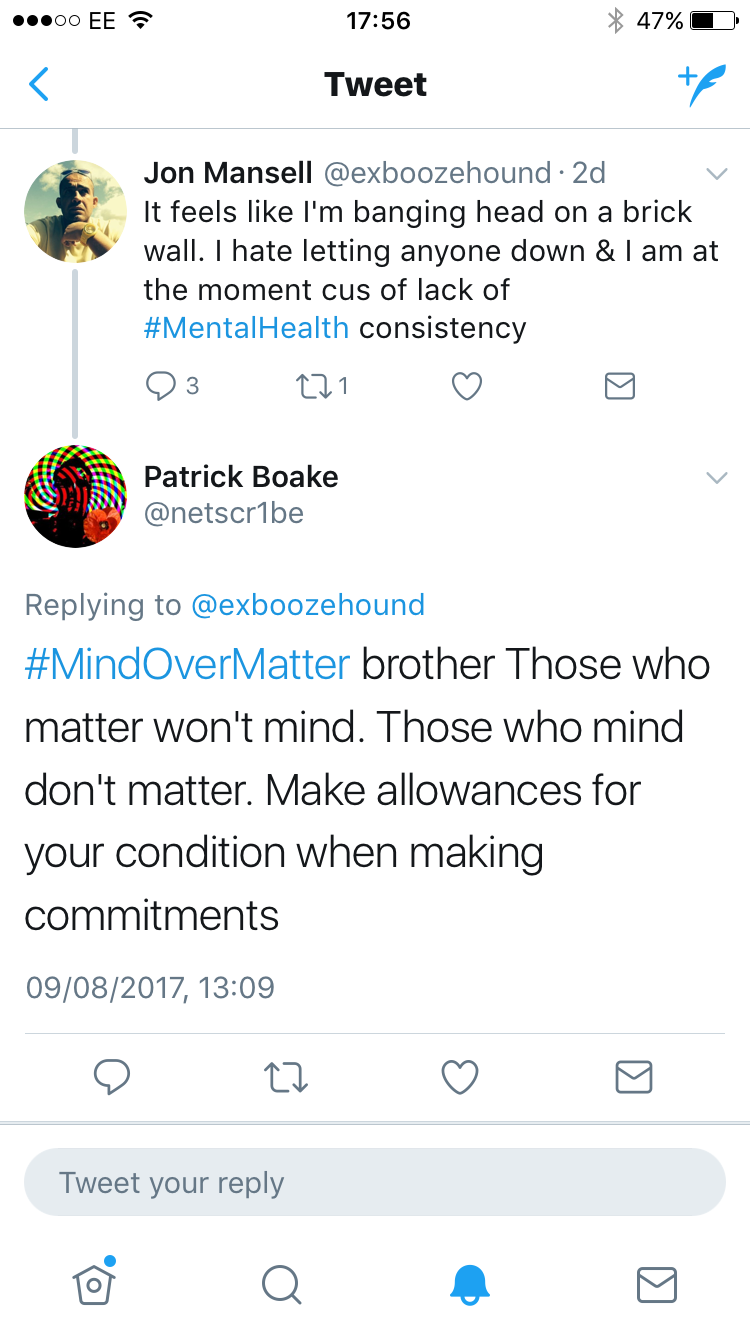 11th August 2017
stuff like this genuinely keeps me going.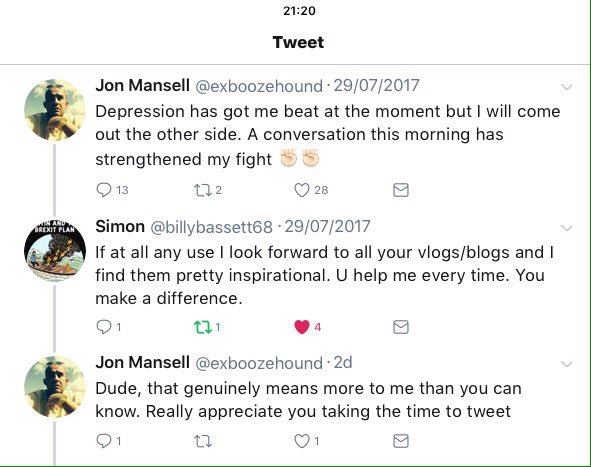 I know I've helped people and I know I should be proud of that, but the demons don't allow me to believe I'm a good person, sad but true. I'm sure a lot of people will identify with that. My noggins been wallowing in negativity recently, but today I spent a couple of hours supporting 5 or 6 people, as I left the place a thought popped into my mind "Fuck me, I'm fucking good at what I do" may sound a bit egotistical but sometimes we must find a way to believe in ourselves.
2nd August 2017


Another moment of pride, I bump into Jim in Halesowen as we often do as an English pleasantry we all say "you look well" both I and Jim did the usual and then Jim said "you've got a good tan" my response was "I don't work do I so I get to make the most of the weather when we get it" Jim then said "you do some amazing work, I follow your updates, I may not comment but I and others follow your amazing work". As always I asked Jim's permission to share this, the reason I like to update my "I Likes it" page is stuff like this really keeps me going when my demons are telling me to give it all up. Thank you Jim, you're now part of 'exboozehound' I might be exboozehound the person but anyone who supports me like you did that day becomes part of the strength that keeps 'exboozehound' going and will keep the progress of 2day2gether moving forward helping more and more people.
21st July 2017
Sam Billingham from @SODANationwide (Survivors of Domestic Abuse) shadowed me recently and tweeted the following. Thank you Sam it was my pleasure I take this as a huge compliment from someone like yourself who does such amazing work. Looking forward to shadowing you in the near future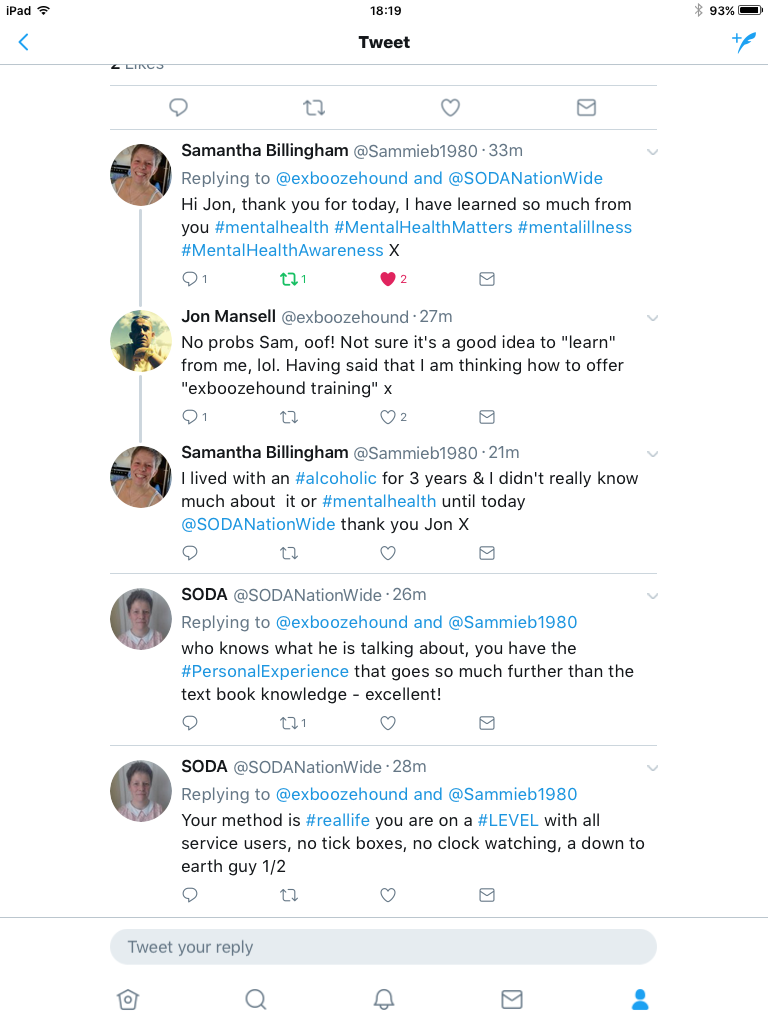 3rd July 2017
More evidence of what a friend with mental health issues themselves called "the exboozehound method" and how I should patent it. What I've done and we do as exboozehound and 2day2gether works and actually changes lives for the better.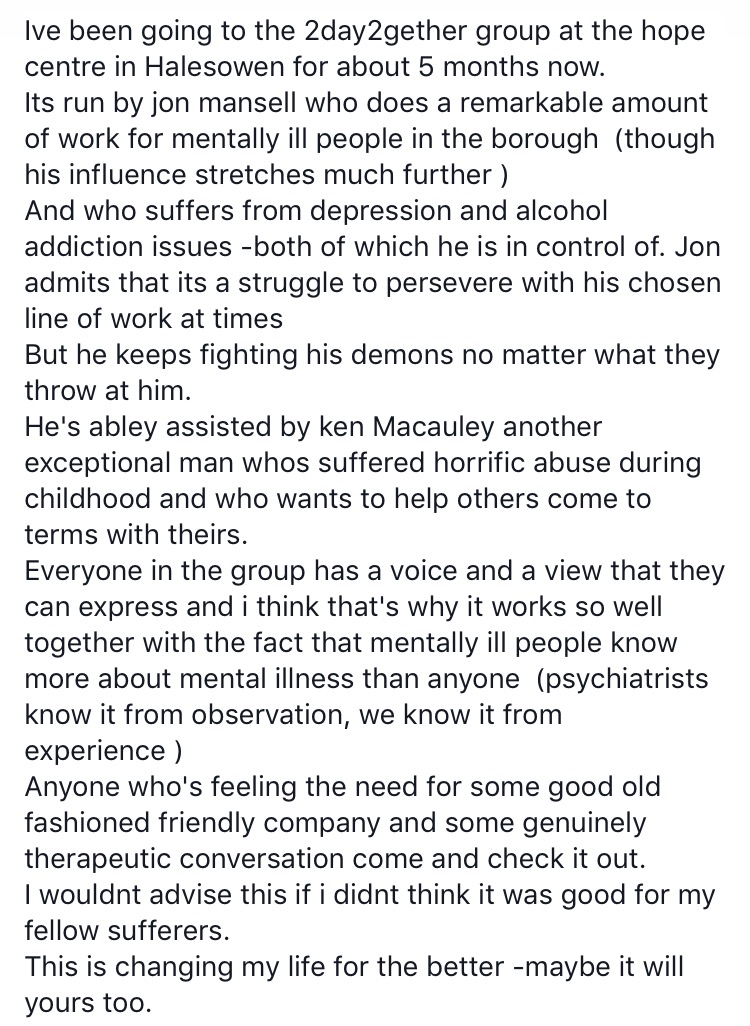 26th June 2017
Another huge moment of pride from an email over the weekend. Emails like this really are what drives me to keep trying to do what I do even though it quite often causes me pain. Thank you Jacqui I look forward to working with you.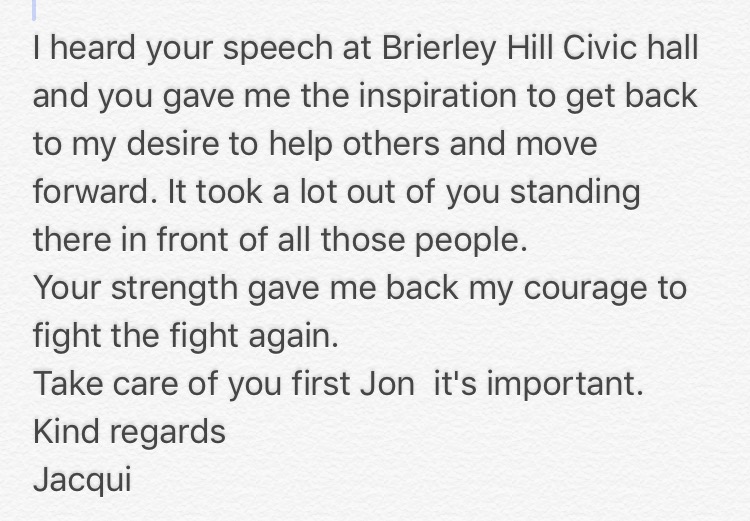 11th June 2017
last night I was contemplating what was the point of me and the stuff I do as exboozehound and plan to do with 2day2gether, I was thinking I might have to try and write a blog post to see if I could work out what was wrong in my noggin at the moment (still might do this). Today I was teetering on the edge of madness then I received this DM on Facebook:-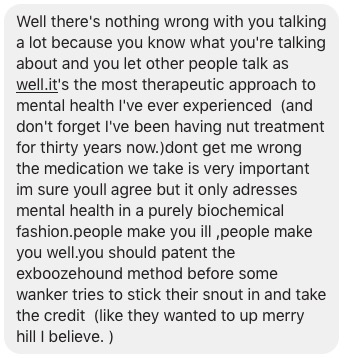 Firstly this message shows "Peer Support" working and just how powerful it can be, someone I 'support' is 'supporting' me with unbelievable feedback, this gives me a reason to keep going against all the odds.
Secondly please make note that this person has been in the mental health 'system' for 30 years and something run by a non professional who has no financial support is "the most therapeutic approach to mental health I've ever experienced" again this person has been in the mental health system for 30 YEARS!!
Thirdly take the above feedback in conjunction with the email I received, below, from a professional with many years experience of Mental Health support services and all the other feedback, awards etc and tell me what more evidence do I need to provide that the 'exboozehound method' (not my words, words from the above DM) works and needs to be supported financially before I get to the point of packing it all in because my life is on hold as long as I continue to help others???!
Making an actual difference IS NOT ROCKET SCIENCE….
25th May 2017
Another extremely proud moment:-
contents of a Facebook post earlier today
8 guys in group today at the Hope Centre one new guy. Having a week off next week cus I've got a few other things on and it's half term. Very proud of this group and the support all the guys give each other. Here's an email I had a while back when we had our first professional visitor attend the group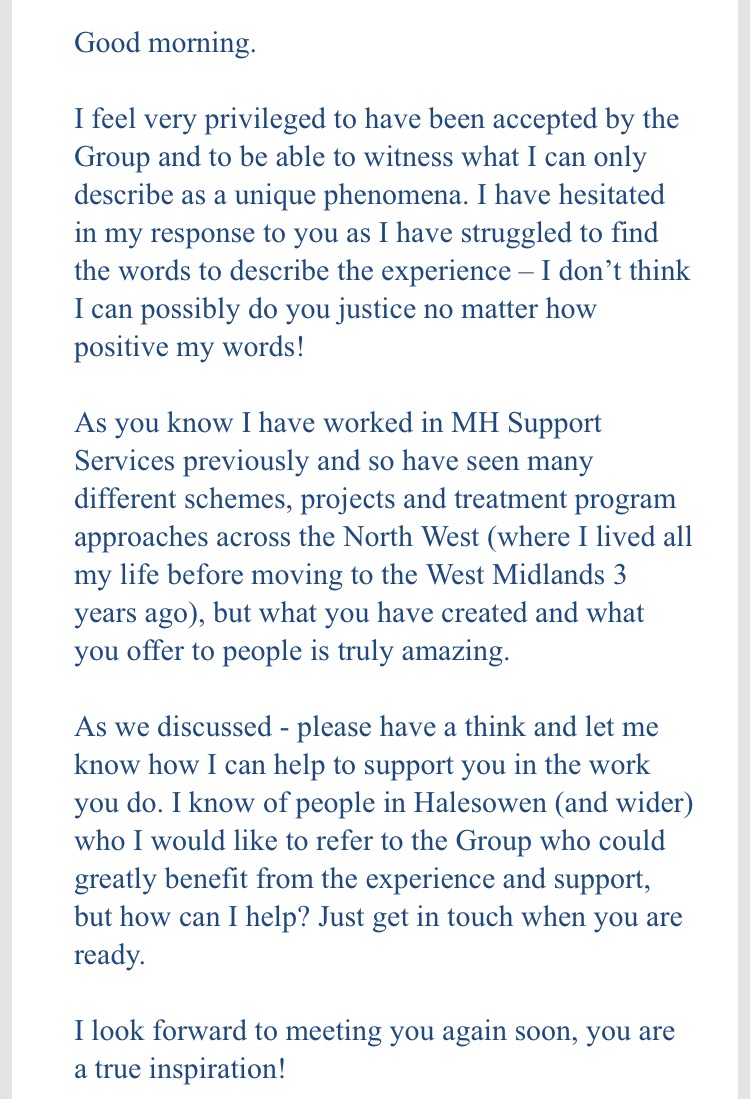 22nd May 2017
another amazingly proud moment for me, this message just popped up on my Facebook page from a lady I've never met. I've done too much over the last couple of weeks and it's damaged my current mental stability, messages like this make me know I've got something to get better for, so thank you RM your message means the world to me

May 2017
Really important to me messages received:-
Text received after a recent meeting with Superintendent Sean Russell Director of Implementation at West Midlands Mental Health Commission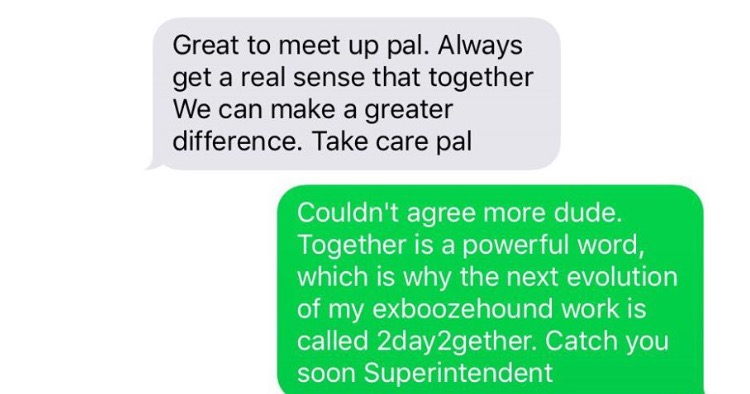 From a new friend on Twitter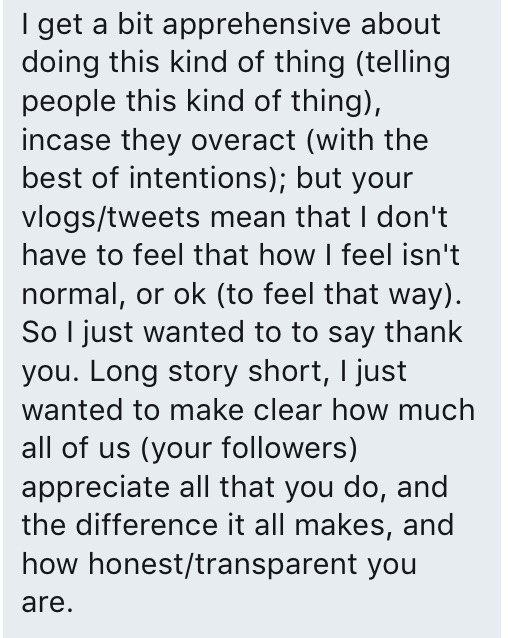 From one of the guys from the men's group I run at the Hope Centre Halesowen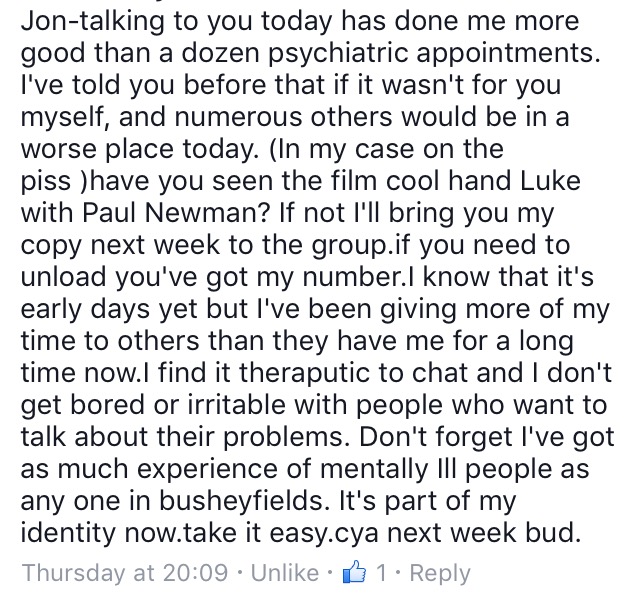 8th April
another proud moment, will be adding more soon, I've picked this one out today cus it can be fairly rare for people to thank me openly cus of the #Stigma attached to Mental Health and addiction. I get a lot of messages in private that people want to keep anonymous, which I totally get and always respect. Thank you CM x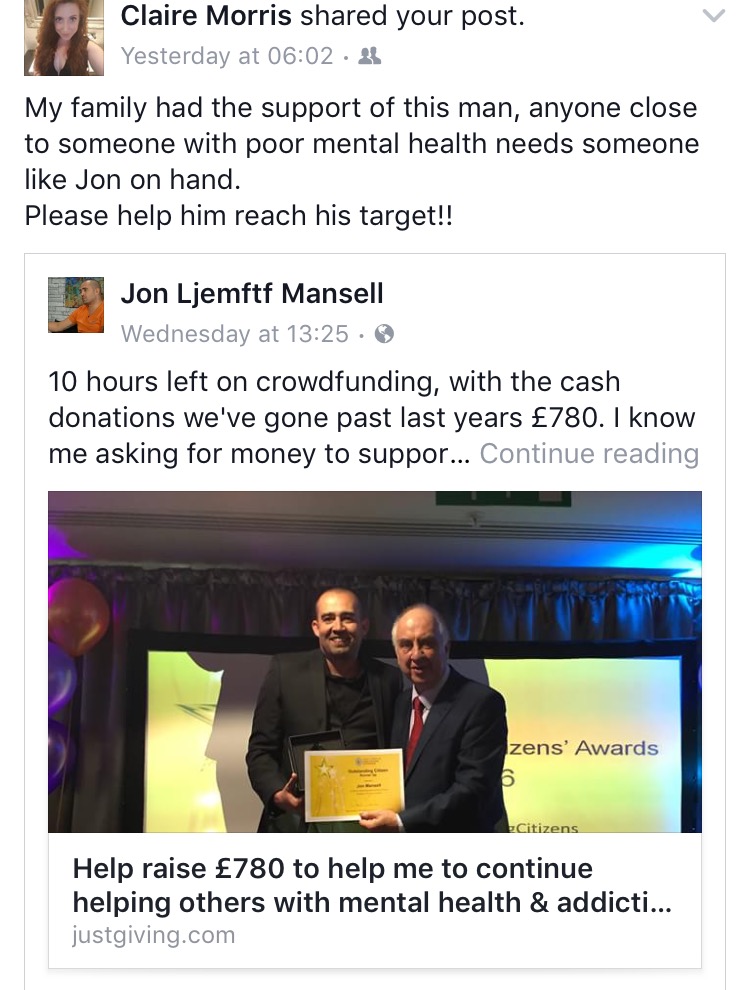 21st March 2017
I'm so lucky to receive messages from people thanking me for what I do, genuinely messages like these next few and the others on this page keep me going, thank you all for taking the time to let me know.
As always i have asked permission to post these messages and made them anonymous when asked to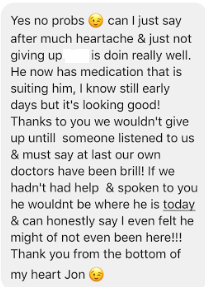 1st March 2017
Another proud moment, honestly stuff like this makes me stronger and helps me keep doing what I do (also quite cool to be called a "legend" 😉 )

1st February 2017
I'm very fortunate from time to time to receive simply amazing direct messages from people, these messages keep me going and whilst my demons enjoy telling me how pointless I am, how pointless my life has been and always will be these messages tell me another story. If you scroll down you will see other messages I've received and other things that I'm proud of, I also ask the sender for permission to post their message, and keep them ananymous, quite often people don't want their private messages shared even though it's completely anonymous, for me this proves just how powerful the #Stigma still is. #Stigma cannot be beaten by individuals it can only be beaten by individuals coming together and fighting against it….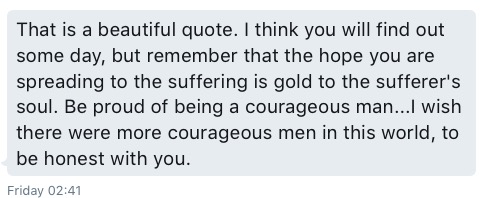 This message was from a lady in America and the quote I'd just sent her was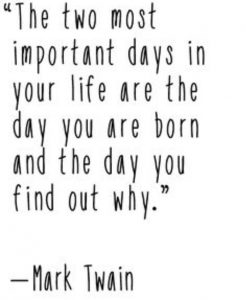 I sent this message with my message saying

I also received this message from the same person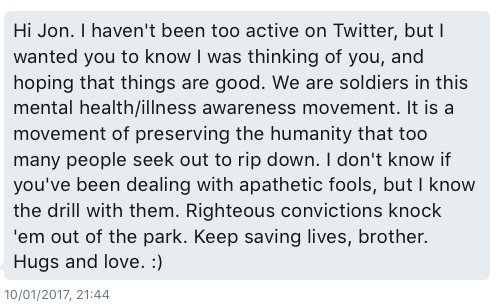 I try to put into words how much these messages mean to me but it's difficult cus they get right to my soul and keep me wanting to keep going with exboozehound and this year 2day2gether also on Facebook and Twitter @2day2gether
I've received another amazing message today as well, this time from a lady in the UK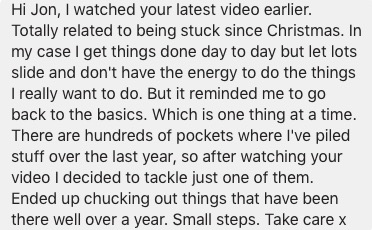 Receiving this message today helped me with my current low, I struggled to get out of bed this morning and when I did get out of bed my noggin wanted me to go back to bed or at least spend the day hiding away. This message gave me the strength to make an effort to get out of the house and in doing this another positive happened. I drove past my brothers house and spotted he was outside doing some work, I turned around and went back, he was outside with his brother-in-law and Ted, the daft dog. As always Ted wanted to greet me by jumping up always aiming for the plums, I protected my plums, as you do, but Ted had muddy paws which made me smile and laugh, now this might seem very insignificant but for me is was a significant moment cus it was an involuntary, natural "human moment" my demons were switched off and I was reacting to a simple moment in time. I was only at me brothers for a couple of minutes cus I didn't want to get in the way but I drove away from there smiling, simply fist bumping with my brother and his brother-in-law and protecting my plums from Ted the path of the day changed for the better. So once again THANK YOU to the lady who sent the message this morning, you made a real difference to my day.
What an awesome DM to get on NYE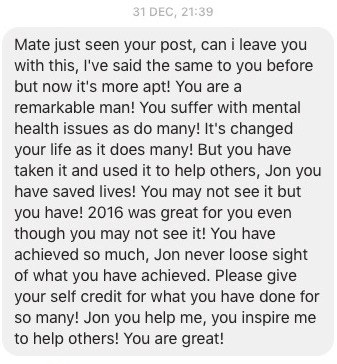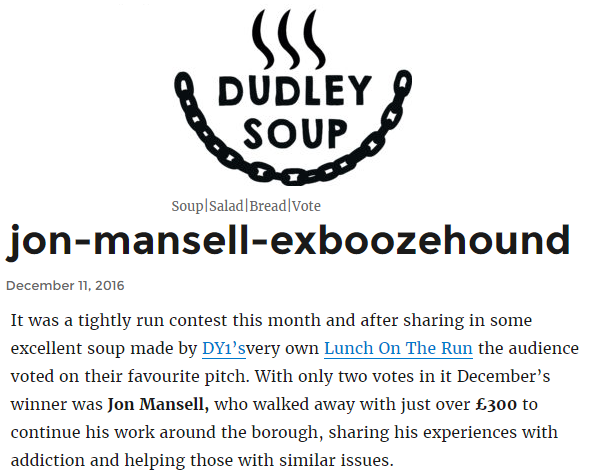 I believe the fact that I'm totally open and honest about my mental illness I get amazing support from friends, family and even people I've never met. I was very proud and possibly a little emotional about comments I received on a recent Facebook post. I understand it can be very very difficult to open up to people about your mental health but if you do my money would be on people being a lot more supportive than you would think, and if they don't support you then they ain't worth a second thought….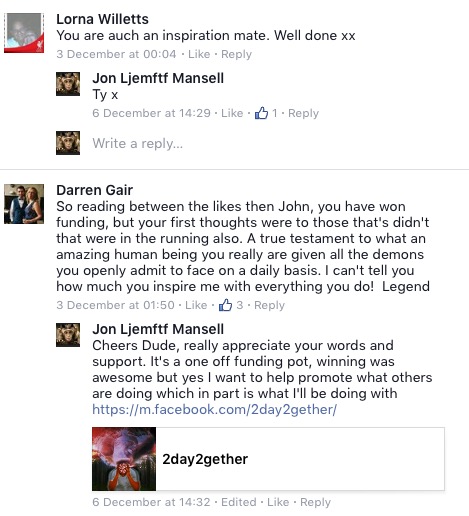 You will notice on this post from Facebook the comment is made by someone called "Exboozehound Ken". I haven't known Ken long. I'm sort of mentoring him, he is going to be a driving force with my new project @2day2gether. Ken can now openly talk about his childhood and how he was physically and sexually abused. Obviously this is a huge subject at the moment with the extremely brave ex-footballers speaking out, I think many guys out there will have been watching the news and hopefully will find the strength to speak about their abusive childhoods and I know Ken will be able to help and support anyone that comes to us at 2day2gether.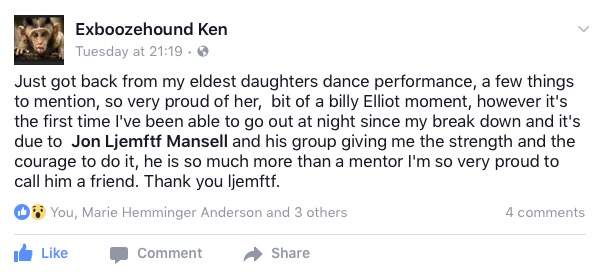 DM recently received on Twitter, stuff like this keeps me doing what I do…. So proud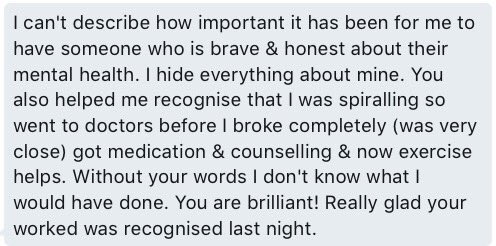 Getting things together before I start working on my new project 2day2gether also on Facebook and Twitter (@2day2gether). exboozehound started November 2013 with the blogging and since then I have built quite an amazing network of people that are willing to listen to me. exboozehound has probably kept me alive as it gave me a purpose but on occasion exboozehound has caused me unnecessary pain and turmoil (all the pain and turmoil has been worth it and as usual I'm not looking for sympathy, just saying how it is)
Some links below that make me proud and can and have opened doors. Most of the newspapers pieces are the same, initially I though I was only in the Halesowen News I then found out I was in quite a few other papers, I have listed the ones I can find as it helps me understand how many people might of read about me. (Bit egotistical perhaps?)
Chief Inspector Sean Russell – this is great news, I met Sean at Birmingham & Solihull Mental Health Triage with Sarah Norman (Chief Executive of Dudley Council) and Norman Lamb MP. Sean is an awesome choice for the position. Sean has also on a number of occasions helped me directly help people in desperate situations, top top man.
As above I met Norman Lamb at Birmingham & Solihull Mental Health Triage, I know Norman and Sean working together will make a difference. Norman Retweets some of my stuff and is happy (I think?) to receive direct messages on Twitter. If either Norman or Sean asked for my help I would say "yes" before I knew what they wanted from me.
West Midlands Police Crime Commission Awards 2016
Since the awards Judy Foster (assistant Deputy Police and Crime Commissioner) has met me at the Hope Centre to speak with myself and the wonderful Camilla and Wendy who run the Hope Centre.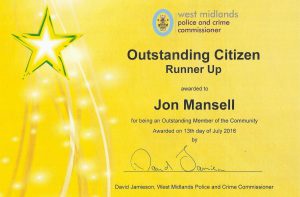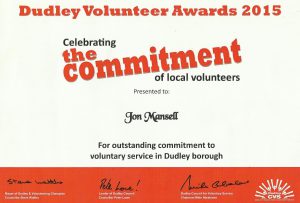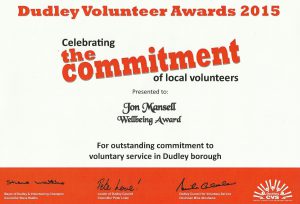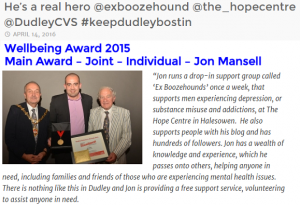 Dudley CVS The Echo (page 3)
Health Watch Dudley Annual Report (Page 7)
Dudley Council adult social care annual report (page 26)
Governance International PDF (page 9) all in German so no idea what it's about
Google Translate (Blogs and self-help group of the expert "aka Exboozehound" on mental health topics such as depression, crisis management and self-help:) "expert" wow!!
Stourbridge News Dudley CVS awards 2015
Wow made it into the Halesowen News
A very proud moment of 2016, being nominated for "the top title at West Midlands Police and Crime Commissioner's Outstanding Citizens awards"
February 4th 2016 A Proud Day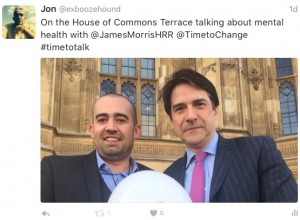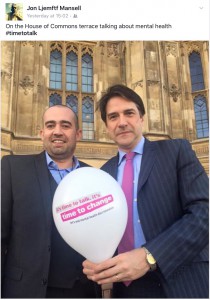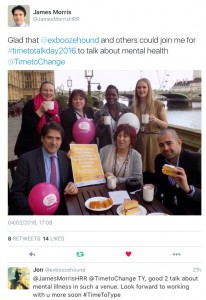 A message from a friend the helped kick start another fight back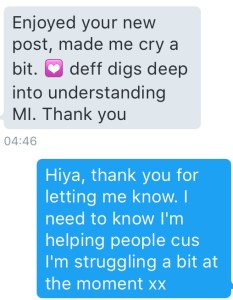 Cuppa TV – Monica Price

Dee Asks

Jon aka exboozehound & James Morris MP

Jon aka exboozehound & James Morris MP's Facebook page
Big Centre TV News

Dudley Volunteer Awards 2015 Page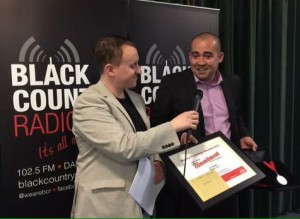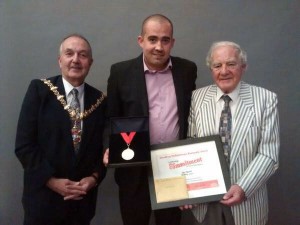 Me being interviewed by local news about mental illness and addiction. YouTube link
Very honoured to be asked to add this link to my blog, the site has a lot of useful information and can help you find a counsellor or other help all across the country…. Counselling Directory