The title of this post may seem negative but I promise you it isn't!!!
The questions is about whats the point of this blog and the answer is it varies depending on where my noggin is on that day. On the first page of this blog "About Me" there is a paragraph that goes like this: –
"I have started this blog to share my experiences, good and bad. I am going to be completely honest and I guarantee I will contradict myself from time to time."
On my "Intro Post" I wrote a number of disclaimers. I hadn't planned to swear quite as much as I have, I have used *'s a lot but I have left someone of the swears pure. If you saw my recent attempt at poetry (lol) you will know swearing is actually cool!!! 
Remember you need to rhythm to "Santa Claus you c**t" in your head to read it correctly…..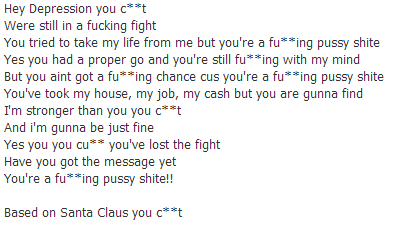 I have stated my views on the NHS most of them negative, justifiably!!, but I always speak positively about NHS staffl. Yesterday I needed to call a crisis line for help, I've had poor experiences with these lines before. I believe that most of us are happy to complain but don't give credit where credit is due enough, I try to do both, recently I had an on-line conversation, I am very happy with the deal I squeezed out of them but complimented the person on their sales skills, sorry customer service skills (?!?!) and when I received a "satisfaction survey" I went to town with praise for their operative "Nicola". So "Marie" credit where credit is due, you were fantastic yesterday when you called me back from the crisis line, (yes you had to call me back because when I first tried to call the line it was engaged twice….) you are another example of brilliant, caring and knowledgeable NHS staff, Thank you!
So, "Whats the point?" of this blog, I still don't know but I do know what I want the point to be…….
Honestly I want to help me but more importantly I want to help others, I want to make a difference. I can't get back the 20 years of my life I have wasted with booze and mental illness but I can do something to help others not waste years of their lives. I have destroyed so many things in the past and the present and this is where my destructive tendencies stop!!!

I need to raise the profile of this site and I need YOUR help, I guess admitting you read this blog is embarrassing but so many of you have complimented me on my "honesty and openness" in private. You could be reading this blog because you have a loved one with booze or mental health issues nobody needs to know why you are reading this BUT PLEASE TELL PEOPLE. I have used my family connection to @BillyIdol, he RT'd me and I gained some followers from Australia, America, Canada and the UK. Please please follow me on Twitter and invite others to follow me, please RT me. Please like and share my blog posts on Facebook, I know there are people out there that read the blog but have never liked or shared a link. If you know or are related to anyone influential be it just mouthy or famous please get them to follow and RT me on Twitter. You can subscribe to receive posts by email but it doesn't always work so Twitter is the place WE need to concentrate on.

If you are embarrassed about reading my blog I understand if you have to tweet something like "@exboozehound lol this bloke is proper mad as a bucket of frogs #bonkers" that's cool.
Thank you in anticipation for your help, yam all bostin!!!
Tweet, Re-tweet, Favourite, Reply, Share, Like, Comment and of course Keep Smiling 🙂