Hi all,  today we have another guest post and like all the guest posts before it's extremely powerful, not only in the words but usually guest posts are the first time people step out and say "this is me, my story" that's very very powerful in itself.
I know 100% that this guest post will help many people….
Still Finding Me
I was such a happy daughter until my teens. I knew something was different inside me, I grew up & became a mother myself but still felt different. It was then that I would eventually find out.
10yrs ago MH, Panic Attacks, Paranoia…….the voice inside started….. The voice was the Devil "HE "Gave me 1 choice.. To end my life & only then would "HE" end all suffering my family had.
I kept screaming No, No, trying to stop The voice, trying to drown it out but it was always the same, 1 choice.
First I was taken from my family to a hospital, psychiatrist ward. As I walked through the door I was a daughter to my parents, I was a mother to my kids. Confusion overwhelmed me. The MH and all kicked in so quickly
Forced medication on me with injections, I was so lost , lost in a dark place with chains holding me there. Begging anyone who said they would help me, telling them I was a prisoner in this dark place…… but paranoia hit me … I then believed they were helping him , drugging me.
I was there for 3 months, it doesn't sound long when writing but it felt like yrs, suddenly I'm then diagnosed with Bipolar, Gave me a cocktail of medication and then the day arrived I was going back to my family…..
But as I walked out I walked out someone else, someone I never knew no longer the happy daughter , happy mum I was, but someone else MH had changed me, and still the devil wanted my soul "HE" kept telling what I had to do …. every day…. so many failed suicide attempts and now he was angry.
My parents there health got bad.
When for the first time in years revealed who " HE" was to my psychiatrist who looked at me like I was mad.
Mad ….. I've got MH Bipolar, the Devil within me, and still no one believed me.
10yrs on he never won , apart from taking the happy daughter I once was , & happy mum for my kids.
MH changed my life, every day is a different battle but the women I am today will find myself eventually.
I may have bipolar but bipolar doesn't have me
My special tattoo reminds me that hope, courage live in my heart always searching for the happy daughter I am
Play……. The Moments
Pause…..The Memories
Stop……. The Pain
Rewind….The Happiness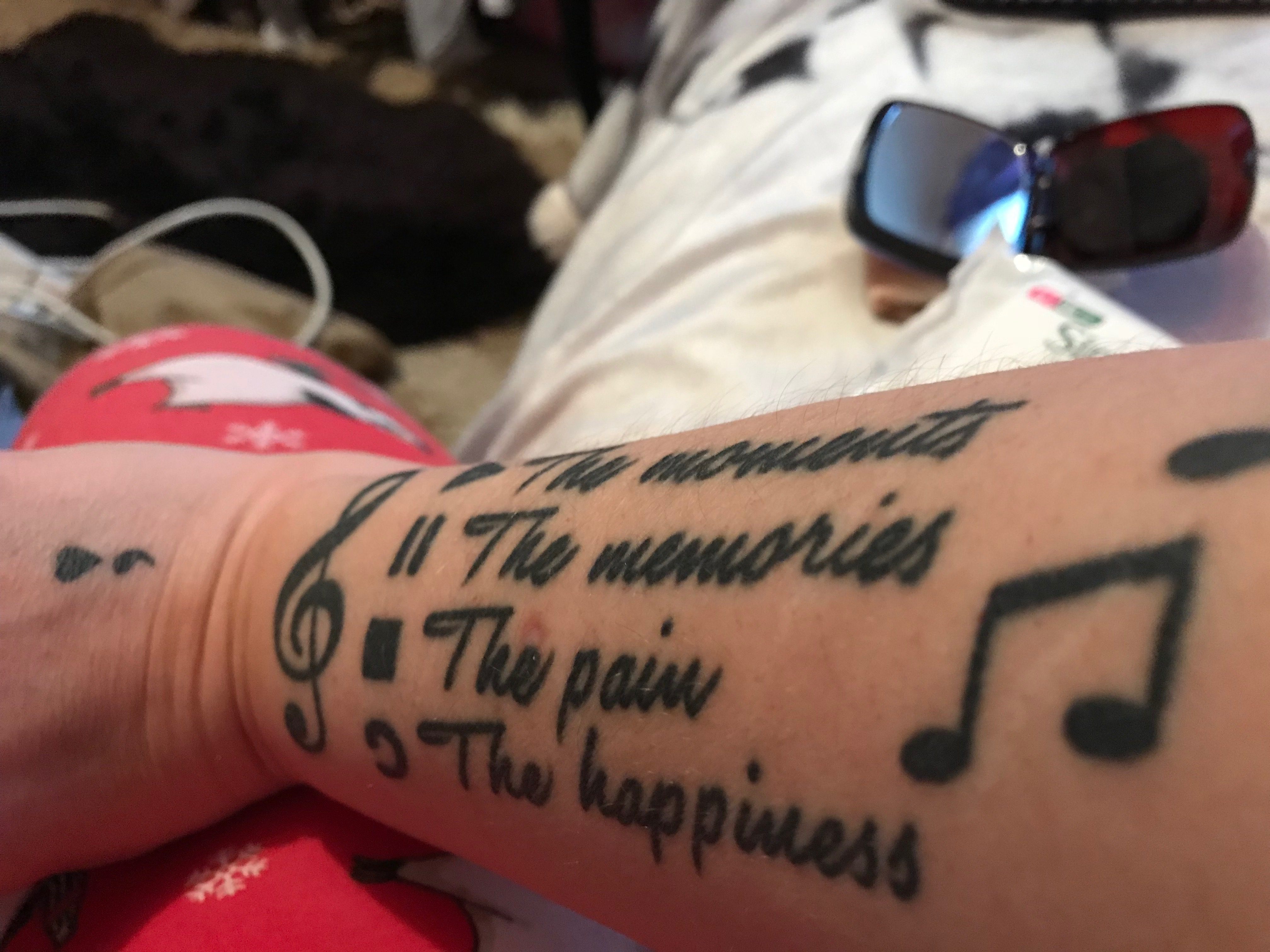 I found the courage to write my story, something I've never done.
For An Amazing Inspiring Man, reaches out to so many of us , his inspiration and courage touched my heart & soul , because I'm now 1 step away from from finding myself, the happy daughter .
Hi, exboozehound again…. I think you'll agree with my one word sum up…. "Wow"
This is a little awkward but I believe "An Amazing Inspiring Man" is me…. This makes me very proud of who I've become since my mental breakdown in 2013, very proud!!
To see the last sentence of this powerful guest post….
"because I'm now 1 step away from from finding myself, the happy daughter" 
I think it's best I say nothing else and let this guest post speak for itself….
"enjoy the good and ride out the bad"
Keep going 😉
Check out the new page on the blog "Stuff"