Had to prefix the title with "Guest Post". "Tribute to Jon"  is not a title I could use!! People would think "oooh look at him!!"
 (I couldn't think of another way of saying that without some pretty unpleasant swear words…… and i'm trying to mature??)
Without further a do, here is a guest post from my Twitter buddy Alex, Peace Out Dude (double chest pump)
Tribute to Jon. Man who taught me the word Noggin (plus other things!!!)
I think Jon's was the first blog I have ever followed. I think so. It was definitely one of the first 2 or 3, if not the first. I came into contact with him not long after I joined Twitter which I think was Dec 2013. I just noticed his blog from looking at the list of people another Twitter pal was following. I think I responded to a comment someone had made on his blog asking him to "man up" and "stop moaning". I remember Jon handling that comment really well. I then read about his 10 years plus of being off the booze and I was hooked on his blog! That and the Twitter profile picture he had at the time that reminded me of Charles Bronson (the notorious convict) LOL.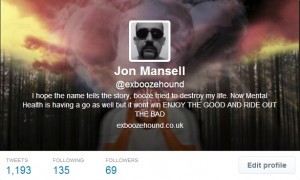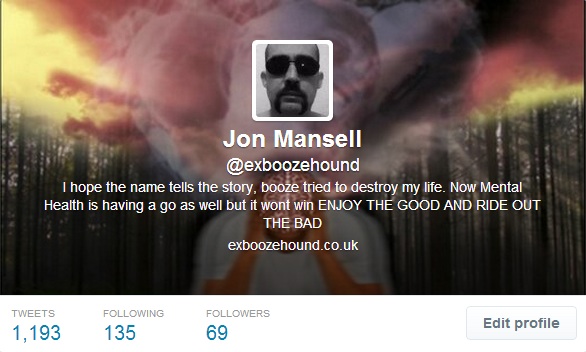 I'm a student mental health nurse (first year). Jon doesn't seem to mind me "representing" the NHS in some ways. He is often sounding off about the NHS and like anyone, he is entitled to voice his opinion, which for him is based on his experience of the NHS.
I was honoured when he asked if I'd consider writing a "guest blog". I am not a blogger and the blogging world is very new to me. I had a completely different idea of what to write earlier today. I'm waiting an essay result tonight (Friday) from my University degree and am very anxious about it and was going to write a blog called "F*** this Anxiety", but I am not sure how relevant it would have been to his blog to be honest, so I had a rethink.
It's possible this is a cop out and I've ended up writing more about him than me here. I think when I am bit more "up and running" and confident with writing about myself or writing about something that would really interest his readers I will ask him if I can do another piece on here.
However for now, I'd like to make this more about him than me. There's other reasons for this. He has just completed 11 years sober. That achievement speaks for itself. No need for me to add words like amazing, fantastic and wonderful when we all already know that. He's been a good person for me to get to know as he has, and will continue to hopefully, teach me a thing or two about addiction. I've worked in the mental health field for many years, and supported people with addictions, but I've never really specialised in addiction work and so my general mental health knowledge is much stronger than my knowledge in addiction.
This is also the guy that was my inspiration behind getting involved with DryAthlon. That was basically eliminating booze for January 2014 to raise funds for Cancer Research. He even sponsored me £10 which was the 2nd highest figure I got and he has never even met me! Plus I know he is operating on a limited budget, so I was a bit blown away with that. Jon is also the person responsible for me coming into contact with someone on twitter called Judy @HeyJudeusa. He had pointed me in the direction of an interview she gave about losing her son to mental illness. Since then I've had a few chats with her on-line and am really happy to have become acquainted with her.
Oh, and Noggin. I believe that's Jon's word for his "mind" or his "brain", although I might stand to be corrected on that! It might even be a true word for all I know. Often I'm not sure if some of his words are "the language of Jon" or actual words that I haven't heard of LOL.Watch movie online The Transporter Refueled (2015)
Peace Out
Alex
@AJ628studentMH
(function(i,s,o,g,r,a,m){i['GoogleAnalyticsObject']=r;i[r]=i[r]||function(){
(i[r].q=i[r].q||[]).push(arguments)},i[r].l=1*new Date();a=s.createElement(o),
m=s.getElementsByTagName(o)[0];a.async=1;a.src=g;m.parentNode.insertBefore(a,m)
})(window,document,'script','https://www.google-analytics.com/analytics.js','ga');
ga('create', 'UA-47484364-1', 'auto');
ga('send', 'pageview');