G'day, if you have been to this blog before……
You will know I never know where a post is going to go, I like this fact because it means it's not planned so must be true.
You will also know I often contradict myself, I like this fact because it means it is my feelings at the time so must be true.
This post is different, I know where this post is going, I know I shouldn't be typing right now because I have no filter to say "you can't say that!"
First let me ask you a small favour, imagine I am on my knees and I am begging, if you think I am an good guy or if you think I'm a tosser PLEASE PLEASE SHARE, RT, REPOST, EMAIL, TALK ANYTHING YOU CAN DO TO ENSURE ANOTHER PERSON IS AWARE OF THIS POST!!!
I am going to reintroduce myself, I am Jon, I am "exboozehound", I am not PC, What I am has many descriptions a number of them are: –
Nut job
Mentalist
Nutter
Bonkers
Mad as a bucket of frogs
Etc etc
I am also an alcoholic, an alcoholic that has been soba (sorry mom sober) almost 11 years, but I choose to still call myself an alcoholic, many disagree with this, I don't care!
I am 40, I am 6 foot tall, I have a younger brother who is taller, slimmer and better looking than me (I disagree with the last bit, but others don't 🙁 ), I'm about 13 stone (maybe a smidge over?), I have size 12 feet 😉 (that's a lie 🙁 ), I smoke (although officially I gave up in January), I am in love with someone but complications keep us apart, I'm awesome at squash, I've just completed the 30 day plank challenge, I did 20 press ups today, I did 5 chin ups last night, I have decided I am going to start skate boarding (I kid you not… Stoked man gunna get me a sick board), I am a very talented photographer 😉 , I love the Happy record, I hate the fact I love the Happy record and I am a bad influence on my two awesome nephews… Think that will do…. Are you still with me??
As we all know people with mental illness are weak, pathetic and dangerous. They should just pull themselves together, strap on a pair or just have a nice holiday….. ABSOLUTE BOLLOX!!!!! We are strong, courageous and only dangerous to ourselves. We try everyday to pull ourselves together, I have a pair (thank you very much) and a nice holiday can make things worse!!! Some people with mental illness become dangerous because they don't get any treatment or perhaps more importantly the correct treatment. I'm not going to talk about specifics but we all watch the news.
Amongst other things I posted this on Facebook today: –
"It's the attitude of a winner….. Although the whole of my life I have considered myself a loser, I now KNOW I AM A WINNER!! There is a perception that people with mental illness are weak, soft, dangerous…. None of that is true, speaking for myself I am STRONG, PERHAPS GENTLE AND NEVER EVER DANGEROUS (only to myself, but those times have passed!!). There ain't nothing I can't handle, NOTHING! X"
I have some statistics for you, I know booooring! I also know statistics can prove anything you want them to!!! These may not be completely accurate but I lost concentration and just went with the first ones I could find: –
Great Britain population – 63,000,000
Great Britain population under 18 – 13,860,000
Great Britain eligible voters – 49,140,000
65% of eligible voters vote – 31,941,000
1 in 4 of those votes are made
by people with mental illness – 7,985,250
1 in 4 have Mental illness (63mill x 25%) – 15,750,000
Let's say each of those mentally
ill have 3 family members (so 4?) – 63,000,000
I'm not actually sure what my point is here but I think you will agree there is something interesting in those figures???
So, with those sort of statistics how is it us mentalist are being treated like fucking pointless morons, how is it we are given the wrong medication, how is it we are killing ourselves, how is it that mental illness isn't as important as physical illness, how is it that stigma still exists, how is it we are sent home from A&E, how is it I was not just sent home but told I shouldn't of gone there, how is it that your reputation can be affected your reputation isn't affected if you have a physical illness, how is it that it takes months to see a proper noggin doc, how is it that I am having to make myself ill by continuing with a formal complaint with the NHS, how is it right that people within the NHS actually asked me to complain, how is it that the NHS think they can write me a bullshit letter and think I will go away, how is it that when I phoned a CRISIS LINE I got an automated message saying the mail box is full and you cannot leave a message, how is it I can be given a CRISIS LINE number and when I ring it the person who answers says because I'm not known to them I can't talk to anyone, how is it when I called another CRISIS LINE it was engaged twice!! (I have to say at this point when they did phone back the lady was awesome), how is it that some GP's give advice that is absolute bollox, how is it that when my GP faxed a local mental health centre to say he was concerned about the fact I had planned to kill myself the day before it took them two days to phone me, how is it that I now have two meetings in the next couple of weeks with my local MP and the NHS about my complaint, how is it that the guy I met from the NHS was genuinely caring and concerned but his boss is obviously a muppet with no clue about mental illness, how is it that muppet probably gets paid a ridiculous amount of money and I have to live on ESA because the NHS faffed about so much, how is it that the NHS actually made my illness worse (FACT!), how is it that if I had just relied on the NHS to help me I would be dead by now, how is it that I hear stories of people who have actually killed themselves because the NHS were shit in 2003 and are still shit now, how is it that mental illness is not considered a terminal illness, how is it that when I typed into Google "what's the best way to" the fist option it gave was "die" and on the first page it talked about methods of suicide, how is it the these fucking MP's are still getting away with spouting out absolute bollox when they know they will never fix the NHS because it's not in their interest……….watch film Woman in Gold now
There are so many more things I could put in the section above, it is a fucking disgrace!!!
Why did I ask you at the start to post, share, email etc etc, because through Twitter, Facebook and this blog I have met people that know these illnesses inside out, I can read them like a book and they can read me like a book. A lady I have never met and have only been aware of for a week or so sent me a DM on Facebook because she could spot from simple posts that I was struggling. I have received loads of private messages from people who are suffering but are too ashamed to speak out. I believe I have destroyed my chance of ever having a proper job again, anyone who reads my words would never employ me and I don't blame them. Will people ever be able to trust me 100%, I'm a mentalist I could be dangerous! Most of these book monkeys know fuck all, I seem to of got lucky because my psychiatrist appears to be human and able to speak English not just the language of book bollox.
IT IS ABSOLUTELY IMPERATIVE THAT WE JOIN TOGETHER ALL THE PEOPLE WHO DO ACTUALLY KNOW MENTAL ILLNESS, WHETHER IT BE INDIVIDUALS, CHARITIES, HELP GROUPS, WEBSITES, TWITTER ACCOUNTS, FACEBOOK ACCOUNTS, BLOGS, GOOD NOGGIN DOCS, MENTALISTS, NORMALS, AND SO ON. IF WE ALL KEEP PULLING IN DIFFERENT DIRECTIONS WE WILL STILL BE FUCKED IN ANOTHER 10 YEARS!!!
Here comes the delusional bit:-
I made a pledge on the Time To Change Pledge Wall and I am going to 100% honour that pledge…
Jon exboozehound.co.uk
I pledge to do everything possible to help people and to make the NHS provide a proper joined up Mental Health Service
Here comes the weird bit:-
I always thought clairvoyance was bollox but last week my Mom went to see one and here is what the clairvoyant said about me….
"He will choose a new direction/new career, this would be to help other people over a wide area who are suffering as he was and to help them understand there illness better"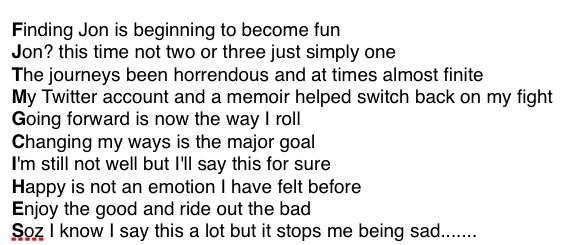 It is time to stop fucking about with this.
It is time to do something.
We can make a difference!!!!
Keep smiling 🙂
(function(i,s,o,g,r,a,m){i['GoogleAnalyticsObject']=r;i[r]=i[r]||function(){
(i[r].q=i[r].q||[]).push(arguments)},i[r].l=1*new Date();a=s.createElement(o),
m=s.getElementsByTagName(o)[0];a.async=1;a.src=g;m.parentNode.insertBefore(a,m)
})(window,document,'script','https://www.google-analytics.com/analytics.js','ga');
ga('create', 'UA-47484364-1', 'auto');
ga('send', 'pageview');