Don't worry I'm not after sympathy it's just a fact…. Each and every day I feel pain, excruciating mental pain…. But every single last bit of that pain is worth it as the alternative is something I don't think about these days!!!!
My whole life I have considered myself a failure, a loser, a waste of a human being, a useless c**t!!!!
I never found anything that I excelled at, I was pretty much shite at everything!!!!
I have now found what I am good at and that is BEING ME…. Who'd of thunk it??
If I never achieve anything else in life I know I have achieved something that money cannot buy…. I received a message (a while back) saying I stopped someone killing themselves and that my blog was one of the only things keeping them going….
Currently I am doing a lot of strange things and making decisions that people think are based on my mania…. A lot of them are…. One of them isn't!!!!
I've purchased a watch today, that I can't afford, but I wanted something special to remember this FANTASTIC and HORRENDOUS time of my life…. Something other that tattoos (soz Mom x) the next tattoo idea is almost ready to go, needs a little bit of tweaking and drawing properly but it will be something like this: –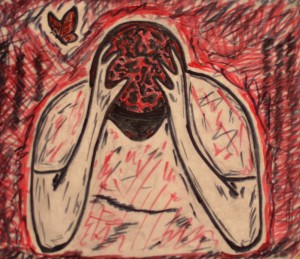 I've spent a lot of time over the last couple of days pulling together the final draft of my "memoir" (that word sucks!), it's 225 pages and I'm now going to look into self publishing, I have had some great advice already 🙂 . I think the title is going to be: –
@exboozehound – "enjoy the good and ride out the bad"
Keep smiling 🙂
#timetotype
#ReadReplyRetweetRepeatx4
#ReevaluateAdaptChange
#PassionBeliefAcceptance