Sometimes our eyes see things that aren't real, we make judgements based on a quick glance, those judgements can be spot on but they can also be way off. Life isn't an exact science and really we shouldn't make judgements about people if we don't know the full story, but do we ever know the full story even of those people we are really close to? I think the answer to that is NO, we are all here to get on with our lives and make the most of it but most of us, I think, do and say things to fit in with what's expected of us in "normal" life….
I have a feeling this post ain't gunna make any sense…. Hey Ho, it is what it is, life doesn't make any sense…. When I asked a couple of people to read my book (lol), memoir (cringe), Thingymajig (that's better) they said it was very hard to read at times and seemed to jump back and forth, I took this as a compliment cus that's the way my noggin works, it's probably the way your noggin works as well wether you are a "normal" or a "mentalist" the only difference being us mentalists seem to pay more attention to the perceived weirdness going on in our noggins and you normals just seem to take in your stride and accept things…. Hold up, I have a feeling I've just made a judgement based on no evidence at all….
Why did I start this post?
Someone said to me the other day "you have a relaxing life just wondering about in the sun", now this is just a comment, it probably isn't a judgement it's just words, we laughed about it and I replied "it's one of the benefits of being a documented mentalist….". You see I haven't been at work, since June 2013 and over the last few months we've had fairly good weather, so I do "wonder about in the sun" I'm sure it looks very relaxing, I've got a decent sun tan (although it's fading now 🙁 ) and 99% of the time I'm wearing shorts, tshirt and sunglasses (I've got sensitive eyes…) and it is fairly relaxing…. However it's not all that it seems, cus a lot of the time I'm wondering about in the sun as a sort of coping mechanism. Being out of work I'm broke, the benefits I receive amount to next to nothing, as soon as I get them they are spent, gobbled up by my overdraft so I haven't got spare cash to go off and do exciting things, I haven't got the cash to put diesel in my knackered old Y reg Astra, don't get me wrong I'm not saying this to get sympathy, I don't need anyone's sympathy I'm just telling you the facts. I spend a considerable amount of time wondering about a bit and drinking tea in a boozer. Wondering about a bit stops me festering at home (which ain't my own home) and drinking tea in a boozer gives me people to talk to. A lot of these people I've only just got to know, most of them know I'm a mentalist alcoholic (retired) and a couple of them call me "Earl Grey" cus I drink it, not cus I'm posh, I ay posh!!!!
Are you bored of this post, I'm getting that way….
I've gone on a bit with some background stuff, there is something I really wanted to say with this post but I'm just not sure how to say it, so I think I'll just waffle on for a bit and see if you can work it out….
Here's a small list of things people have said to me lately….Watch All Girls Weekend (2016) Full Movie Online Streaming Online and Download
"you have a relaxing life just wondering about in the sun"
on the surface this is very true, but I've spent over 20 years fighting against mental illness and alcoholism trying to hide it and get on with "normal life" which lead to me having a mental breakdown in June 2013. In June 2013 I was very unrelaxed, sitting on my bed rocking backwards and forward, shaking, sweating, believing my life was over and the best thing I could do now is strap on a pair and end my life….
"I like Jon he's really calm"
all of the above again…. I am calm most of the time, but if I'm not calm I'm shut away at home (not my own home) struggling to control the thoughts in my head and sometimes my physical reactions. I'm calm these days cus I've got to know me and I'm 100% honest with myself and those around me. Part of my calmness is down to what I have learnt from people via this blog and speaking with people about how they cope or how they don't cope and if I'm honest, which is am, Mindfulness has helped a lot. I'm fine as long as I put effort into staying in the day, and thinking as little as possible….
"You're a good listener as well"
Although I do tend to talk a lot, I do spend an awful amount of time listening. The lady that said this to me (via Twitter) is a lady called Julie Christie (@juliechristie1) I was fortunate enough to meet Julie at a meeting a few months ago at Aston University, she spoke about her work with dementia and if I had to describe her with one word it would be "inspiring"…. During this meeting I did my usual thing of being very vocal and I was very pleased to see that by the time I got home Julie was following me on Twitter, I'm hoping to catch up with her later in the year and learn from her approach. For me being a good listener is important, we may not agree with everything others say but we can learn from them and get a better understanding of how things work….
"We have 2 ears and one mouth which is a good ratio we should stick to"
"There's something about you that draws people to you"
I think that's purely my honesty and openness, I see my mental breakdown last year as a positive thing, it forced me to have a long hard look at myself to try to understand why I am where I am. I think one of the things I have been doing since June 2013 is "finding myself" poncy words, yes, but I don't have a choice cus I've spent so long lying to everyone around me and lying to myself that I don't really know who I am. I've spent so long suppressing feelings that I don't really understand feelings. I've spent so long hating who I am not actually knowing who I am and why I hate me. I've spent so long living with Jon and "Jon" I'm a little fucked up. I used to get confused by the fact that people seemed to like me, I still am, were people really liking the "front" I created to enable me to get on with life and be bloody good at my job? Everyone at some point has to put a front on to get through certain days and situations, not swearing like a trooper in front of your Nan is basically putting a front on, I still have to front things out, everybody does, but I'm starting to think the "Front" I put on is the real me, or it is, does it matter, am I over thinking again???? I hope there is something about me that draws people to me that would be awesome 🙂
"You are meant to do something good with exboozehound"
This was amazing to hear, cus I've thought this for a while but my noggin demon always tells me I'm being delusional and nothing good will ever come from anything I do, but if I sit back and have a little think about it, good things are starting to happen. I get messages from all over the world about how my blog helps people, I've had a number of guest bloggers and there are more to come, I'm getting involved with Health Watch Dudley, I'm speaking with Dudley CVS about setting up a community interest company called Zorbsagogo (it's on Face Book), I'm talking with a local company about selling some of my photographs in the name of exboozehound to donate money to charity, I've wrote for a couple of websites (www.mensdepression.org and www.anxietyunited.co.uk ), I've wrote something that hasn't been published yet for www.govint.org , I'm speaking with a company about setting up my own support group and counselling sessions (no I haven't got qualifications and certificates but I've got quite a lot of experience!!!). So, even though my noggin demon tells me I'll never amount to anything I know it's wrong cus I already am amounting to something and even without the things listed above I'm having a go, I'm keeping going, I'm getting my daily wins :).
"You'll end up on the Wright Stuff you will"
I know this was a flippant comment, but it came from me telling someone about the various things listed above, all I can say is if this comes true I would be chuffed to bits because right from the start of this blog one of the things I wanted to do was make a difference…. Show people there is nothing to be ashamed of in having a mental illness. I want to find a way of describing just how terribly desperate I was in June 2013, how I KNEW my life was over and the only answer was suicide and how I KNOW now how very wrong I was…. VERY VERY WRONG!!!! I met someone last week that works in care and they said some words that I have heard quite a few times before and from my experience I know to be true….
"the mental health side of the NHS is at crisis point, the way people are left to suffer is an absolute disgrace…."
I've said it many times before and I have to say it again because I am thankful to the many many amazing people who work in the mental health side of the NHS, they are truly amazing, caring, very talented people. But I will state again that the time it took to get me into the "system" very nearly killed me through absolute desperation….
"One thing you are definitely not is a loser…."
I posted this on Face Book the other day and got the above message for a friend who I've been speaking with about various issues through this blog….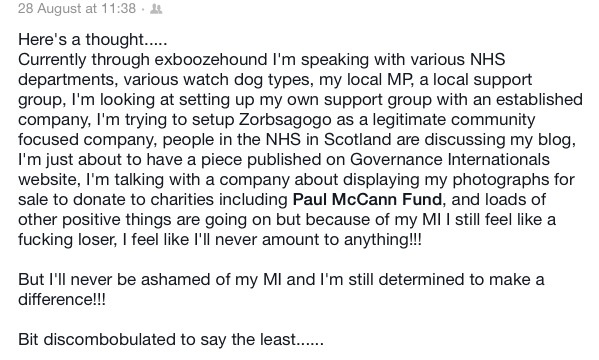 I am a loser in conventional terms, no job, no house, no kids, no money, on benefits etc…. But I really don't give a shit about conventional terms, my mental breakdown ensured I probably won't ever live a conventional life again. I receive a lot of messages behind the scenes on how my blog, my words and the words of my guest bloggers help people with mental illness and addiction issues understand they are never alone and never will be. I've also received messages from people without mental illness and addiction issues saying it's helped them understand a loved one better…. These messages help me believe I'm not a loser and keep me going on, so thank you XX.
Right I'm almost at 2000 words and I'm fairly sure I haven't made a point in this post…. If you've made it this far and not fallen asleep or got extremely bored, if you can find a point to this post I'd love to know what it is so drop me a comment….
Keep going 😉
Jon aka exboozehound
@exboozehound
www.exboozehound.co.uk
Oh and don't forget my Thingymajig (memoir/book)
(function(i,s,o,g,r,a,m){i['GoogleAnalyticsObject']=r;i[r]=i[r]||function(){
(i[r].q=i[r].q||[]).push(arguments)},i[r].l=1*new Date();a=s.createElement(o),
m=s.getElementsByTagName(o)[0];a.async=1;a.src=g;m.parentNode.insertBefore(a,m)
})(window,document,'script','https://www.google-analytics.com/analytics.js','ga');
ga('create', 'UA-47484364-1', 'auto');
ga('send', 'pageview');

Tweet
//