Stability –
a. Resistance to change, deterioration, or displacement.
b. Constancy of character or purpose; steadfastness.
c. Reliability; dependability.
Stable –
2. Enduring or permanent: a stable peace.
a. Consistently dependable; steadfast of purpose.
b. Not subject to mental illness or irrationality: a stable personality.
Interesting words "Stable" and "Stability" (I may be misusing the word "interesting"….), I knew what they meant but yesterday I decided to google them for specific definitions for a particular reason. That reason being I spoke with 3 people yesterday with mental health issues of varying severity, each one of them has been left in no mans land in the Dudley and Walsall Mental Health Partnership NHS Trust. Like me they are all in the "system" somewhere(????), unlike me they didn't mouth off, complain and tweet about how horrendous and not fit for purpose the "system" is.
Two of them I spoke to yesterday have asked their GP for more help and someone to talk to, one of them has asked to see a psychiatrist again and the response they both got was "you don't need to talk to anyone you're STABLE". The other one now sees the psychiatrist every 3 months with absolutely no support between appointments, they are still awaiting counselling, at the last psychiatrist appointment the prescribed change of medication was for a drug that is no longer available…. (I don't think that last bit needs further comment)
Last night I was speaking on Twitter with someone who has been told they need CBT and the waiting list is about 300 people long, so it's been decided they need therapy and they will receive that therapy sometime in the distant future, is that good enough? No it's not!!!! I have also spoken to someone recently who's had a bad experience of what the NHS has to offer so now chooses to avoid the NHS and any help all together….
I find it harder these days to slag the NHS off because I'm in a different situation, yes I only see my psychiatrist every 2 months for about 20 minutes but between those visits I see someone every couple of weeks and she's brilliant, partly because she is brilliant and partly because she's a consistent part of my life. A few weeks ago I was struggling and feeling very wrong and all I had to do is to walk into the Halesview centre, which has the best mental health reception staff I've come across so far, and ask to speak with my health worker (I must ask what her actual title is one day….). I was very fortunate as she was about to go out but she gave me a few minutes of her time, in which I cried (no shame in that!!), she reaffirmed a lot of stuff I already know, but when my noggin gets fooked up I can't remember or act on what I know, not always. She reminded me I'd had a huge "episode" just over a year ago and I still had a long way to go, she reminded me I'm too hard on myself, she pointed out I was trying to do too much again, she reminded me I had come a very long way in a relatively short period of time. I walked away after less than 10 minutes feeling much more settled and realistic about stuff.
All of the above mentioned people don't have the option to just to walk in somewhere and ask for help. I've been told that the support I'm getting is no different to what others are getting, but quite obviously that isn't true. I know from talking with some people in power in the NHS they want to give everyone the sort of support I have but they just can't as they don't have the people or money to do so. One of the heads of department I have been speaking with who is amazing and massively driven to provide mentally ill people with all the support that is possible has now left the NHS "due to ongoing changes" what's the betting this is simply down to lack of funds and frustration about all the red tape and rules that stop wonderful caring people from doing the job they signed up to do, using their training and people skills to help those who need it whether it be intense therapy or just a simple chat.
For obvious reasons I can't give more details of the various people I have mentioned above but what I will say is one of these people is diagnosed with what some people would consider quite a serious mental illness, they're asking for help and being denied it. For a GP to respond to a request for more help with "you're stable" is absolutely disgusting. Do GP's understand how hard it is to ask for help? If a recognised mentally ill person asks for help surely it should be considered carefully or at least followed up? I guarantee the people asking there GP for more help didn't do it lightly and would of spent a lot of time building up the courage to ask the question. Unfortunately these days just asking for help gets you nowhere, you have to demand it and demanding anything when you're are mentally ill is almost impossible.
Looking back at the definitions of "stability" and "stable" I would suggest that neither me or anyone else I have mentioned in this post is either of these words and if GP's and more senior noggin docs think that "stability" or "stable" are positive acceptable words to describe a human beings life they are wrong. Being "stable" suggests that mentally ill people aren't having rewarding lives they are just existing and if we are just existing what is the point?
Just because we are mentally ill it doesn't mean we can't have rewarding lives, from time to time I feel my life is very rewarding and as I move forward I hope to have more rewarding times more often. I know this will take time, I know I have a long way to go, I know I am very fortunate to have the NHS support I have, I know I am very fortunate to have the support this blog gives me, I know I am very fortunate to have the support I get on Twitter and Facebook, I know I am very fortunate to have the support of family and friends. I also know that a lot of the support I have is because I have been completely open and honest about my illnesses, occasionally my honesty has a negative effect on life and situations but the majority of time it has a positive effect and allows me to not waste my energy trying to be something that I'm not. When I'm happy I'm happy, when I'm sad I'm sad, when I fooked up I'm fooked up but at all times I'm honest and open….
"enjoy the good and ride out the bad"
I posted this on Face Book yesterday, I don't post these blog posts and Twitter and Face Book posts looking for sympathy, I don't do it as a "woe is me" I don't need or want sympathy!!!! I do it cus it helps me and hopefully it helps others cus life "is what it is". It doesn't make a difference if your're a "mentalist" or a "normal" we all have up and down times, perhaps a "mentalists" up and down times can be a bit more serious and life consuming, up and down times are part of life sometimes you can do things to make things better, sometimes you can't and just have to ride it out. Every time I get into a down time I know can handle it cus I know I've got through a lot worse and I accept that it's just part of the game that is life. "It comes with the territory"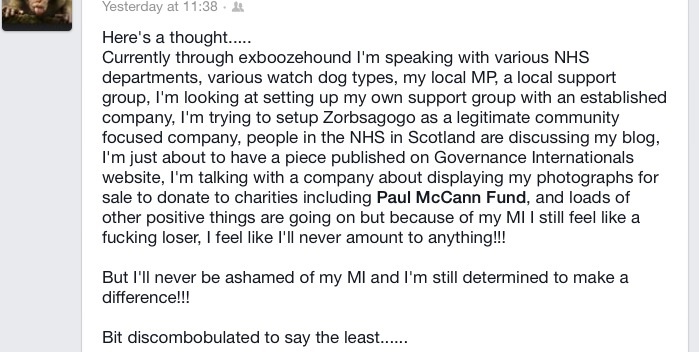 Keep going 😉
Jon aka exboozehound
@exboozehound
www.exboozehound.co.uk
Oh and don't forget my Thingymajig (memoir/book)