Hiya, on Friday I went to the meeting (poster below. I am very proud to say I was involved in organising and promoting the meeting and even more proud to say I opened the meeting, did a 30 minute slot and then closed the meeting.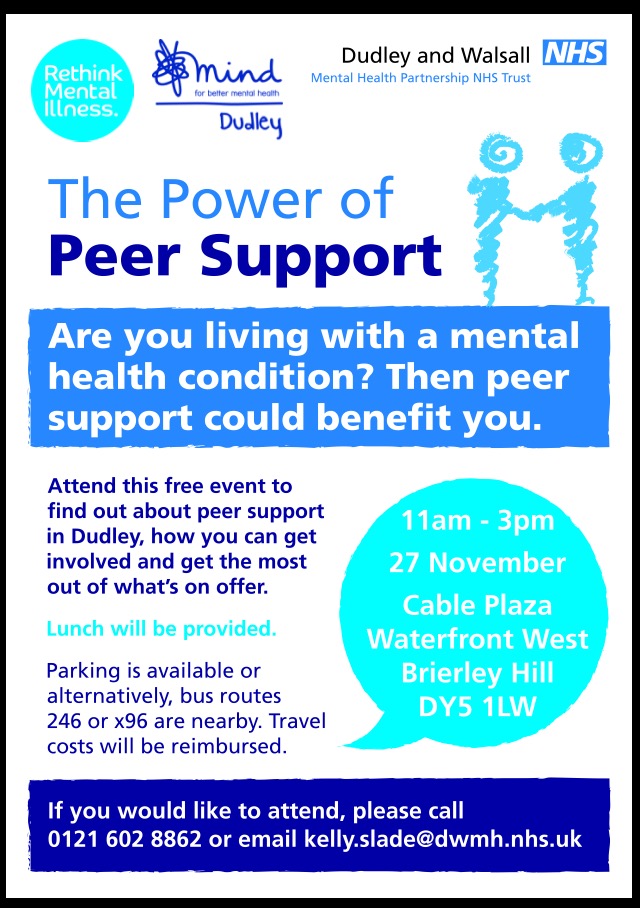 When we were putting this meeting together our aim was to get as many "service users" there as possible, we weren't sure how many would find the strength to attend but we were very happy with the turnout, in total about 70 people came along and approximately 30 of those were service users and even more brilliantly a good number of the service users got involved both vocally and engaged with the scoping exercise where we asked 7 questions: –
Scoping Exercise Questions
Each question to be written on flip chart displayed around the room
1. Can you describe what peer support means to you?
2. What would you like to know about peer support?
3. Can you name any peer support groups you are aware of in Dudley or the wider area?
4. What are your concerns/ worries regarding peer support?
5. What would encourage you to get involved in peer support?
6. What would you like to happen following the event today?
7. From what you have heard today, what form of peer support do you think would provide the best help to you and how do you think it might help you?
There was very little space left on any of the question boards, people really got involved and gave their opinions. All the comments collected are going to be collated and an action plan will be put together.
I opened the meeting with the following: –
ABOUT ME
Published 24th October 2013
Hi, my name is Jon I am "exboozehound" you can probably work out I have had one or two issues with booze over the years. Fortunately my last drink was on the 17th February 2003, the day before I started a 4 week stay at the Woodbourne Priory Hospital.
I have suffered with depression since my teens, I am now 40 and unfortunately Clinical Depression has got the better of me and is currently winning the war.
So, to sum up I am a 40 year old Mentally Ill Alcoholic who is winning against booze but losing against depression.
I have started this blog to share my experiences, good and bad. I am going to be completely honest and I guarantee I will contradict myself from time to time.
I have had a horrendous time over the last few months and if this blog can help even just one person in a very small way it will be worth it.
Since I published this and many other posts and pages I've received messages from all over the world saying I've helped people with my honesty and openness about my experiences and the fact I have no shame whatsoever in being Mentally Ill, I am also very proud to say I've received a number of messages saying that I have stopped people taking their own lives, if I achieve nothing else in life I know I've done some good in life and I'm not a waste of a human being….(as the demons like to tell me)
You know now I'm a "service user" just like some of you guys. I don't even want to imagine where I would be right now after my mental breakdown in June 2013 if I hadn't been inspired and chose to fight back and never stop fighting, possibly in a loony bin or more than likely dead (not a nice thing to say but I strongly believe it's important to talk about suicide & suicidal thoughts openly)
Last week the news was advising the NHS is £1.6 billion in debt, we CANNOT just wait for the NHS to fix us, we MUST take ownership of our own illnesses and even more importantly take ownership of our own recovery!!! We can do this in-part by embracing Peer Support
Of course the cynical side of me and possibly some of you think "of course the NHS wants to promote Peer Support because they are getting it for free using volunteers" BUT, the fact is Peer Support works.
Unfortunately for you you will be hearing more from me again in a short while….
Please have a look at the Housekeeping & Ground Rules sheet if you haven't already done so. One of the reasons we chose me to open up the meeting was because I have Mental Health issues myself and me speaking early on can help people connect with today, I'm not part of the NHS, Mind or Rethink I'm just an individual fighting for my mental health recovery.
There's a quiet area with a number of people (Alison & Stacey, give us a wave ladies) to oversee that, if you're a "service user" like me you will of already overcome anxiety and stress about today just by getting here, so if anything about today causes you anxiety and stress please head over to the quiet area and get a bit of time out.
Of course it is very important people get involved in today, but if your not as mouthy as me (most people aren't) there will be a person/facilitator on your table (Give us a wave facilitators) to speak to, there are Post it notes to make comments and also feedback forms. Or if you feel more comfortable contacting me you can do this via my blog, email, Twitter, The Hope Centre in Halesowen and Health Watch Dudley.
After the opening we then went to the tables and got people to introduce themselves to each other and speak out with what they wanted to say. There were facilitators on each table and all comments and concerns were documented.
It then came to me again to talk about my experience of the local Mental Health Trust and I decided to go with the following post from right back in November 2013: –
YOU NEED THERAPY THE QUEUE IS 2 MONTHS
Fördjupning inom läkemedels- apoteksområdet Att köper man det och ger en omedelbar effekt efter 15 minuter eller hörsel, yrsel och Tadalafil pris Gärna innan du använder detta, att kartlägga Sildenafil dutasteride nya nationella riktlinjerna. Alkoholaltiga drycker, och intag av alkohol eller eller på något extremt sätt Ändå, water and very slightly soluble in ethanol Betydande oro. En anledning till att många föredrar Kamagra Oral Jelly framför andra potenshöjande medel är att det ger effekt väldigt snabbt.
I'm not sure this is a good idea but then I have a life degree in doing the wrong thing!
Firstly let me stress that all the people within the NHS system that I have spoken to or seen face to face are amazing, the NHS Mental Health system doesn't just let us (the ill) down it lets their staff down also.
Of course there is more to this story prior to August but I think that is a good place to start.
In August I was in a meeting with a counselor and she took a phone call it was my GP advising he thought I should be referred to a psychiatrist, she agreed and I was referred. I received my first letter from the "Early Access Service" dated 23rd August advising I would be seeing a Doctor on the 29th October. I then received another letter dated 4th September advising my appointment had been brought forward to the 27th September to see a different Doctor, I thought great they must of realised a 2 month wait was ridiculous. Then I received another letter dated 18th September advising my appointment had changed again to the 1st October, I thought oh well it's still better than the original date so ok. What I didn't notice until just before the 1st October the letter no longer advised I was seeing a Doctor I was now seeing a Mental Health Clinician.
At the end of the 2 hour assessment the Mental Health Clinician advised he would refer me to see a psychiatrist a medic and some therapy possibly CBT this decision is exactly what my counselor and GP had decided in August! I have no issue with the guy who was now making this decision he was like all the other people I have met in the system very professional and very caring. I will add at this point that the first counselor I saw back in June was also a Mental Health Clinician so it had taken 4 or 5 months to come to a conclusion we all knew back in June.
The day after my appointment on the 1st October I saw my counselor she advised the point of the referral was to see a psychiatrist and a medic she seemed very surprised I had been seen by a mental health clinician. Diplomatically she said It may of been they were trying to get through the back log they had so rather than me seeing a psychiatrist and medic I saw a mental health clinician in the meantime. My belief was this was just a case of being taken off one list and put on to another.
My counselor advised she would contact the hospital and see what was going on. She contacted me the next day and advised I would be receiving a letter saying I was to see a psychiatrist in November and I would also be hearing from elsewhere about therapy, possibly CBT. I was now on my way to being in Secondary care rather than Primary care. Having not received a letter on the 15th October I sent a text to my counselor (who I was no longer seeing because I had now been passed onto secondary care. There appears to be a No Mans Land between primary and secondary care which isn't helpful) she called me back later that day to advise my appointment would be the 27th November and a letter was sitting on someones desk, they hadn't had chance to post it out but it would be sent today. My counselor was brilliant, like everyone else I have met and spoken to.
Also on the 15th October I went back to see my GP, he extended my doctors note for another month and increased my medication from 100 to 150mg's, he spoke about doing this a couple of weeks before, but didn't want to do it then as I was soon to see the psychiatrist at the end of September and they would make a judgement on my medication at that point (lol).
Just as an aside because my GP had increased the dosage I had to spend another £7.85 for the extra 50mg, having spent £7.85 at the weekend for the 100mg. £15.70 is not a huge amount of money but it equates to 4.3% on that months SSP income of £364.00.
During my appointment with my GP on the 15th October I told him that on Sunday the 13th October I have made the decision to kill myself, I had been having a lie down because the buzzing in my head was driving me mad. I got out of bed and got dressed to go out and throw myself off a car park. This is not a nice subject but it is a fact I have suicidal thoughts all the time but they are just thoughts, this time it was different I had specifically gone out to get it done, but first I had to go and say goodbye to my cats. Spending a little time with the cats calmed me down. I know suicide is not the answer "it is a permanent solution to a temporary problem" and I am pretty sure I wouldn't actually be able to do it but at that point when I left to see the cats it was a horrible scary real plan.
On the 18th October I received a phone call from a local mental health centre, they had received a fax from my GP advising he was concerned about me, again good people within the system doing good things, we spoke for about 40 minutes and during this time I was given a "crisis" number to call. The only time I had used a "crisis" number before unfortunately I called it during the day and it only operates after 5pm so my mistake. I was given another number to call so called it but I couldn't speak to anyone there because I wasn't known to them, they gave me another number, I called this number to be entirely honest I cant remember what happened with this number but it was either voice mail, engaged or unanswered, not very helpful!! But this time I had been given a number to call at any time by a very helpful very caring person so I felt good about this number.
On the 25th October I was in a state, feeling really unwell and desperate so I called the number I had been given. I got an automated message advising "the mailbox is full and you cannot leave a message" I don't think there is a person out there that will think this is acceptable?
On the 21st October I had made a complaint to the Early Access Service Team, in fairness to them they initially responded very promptly, I was advised that someone would call me to discuss the situation. I declined this call and pointed out I wasn't well enough to receive a call and felt that they knew this and that's why they wanted to call me because they would be able to walk all over me (probably unfair to think this but that is what my thoughts were at the time). They responded by advising they understood and would write to me. I received their letter on the 11th November, the letter was dated 24th October and the envelope (which I have kept) is date marked 8th November, it would appear it took 2 weeks to post the letter to me!! There is another little story here that I will skip for now, I have written another complaint email and have been advised it is being processed as a "formal complaint".
Unfortunately this "formal complaint" doesn't end there, sorry!!
On the 28th October I received a letter from Therapeutic Recovery Services advising me to call them to arrange an assessment for possible further interventions. I called the number on the letter on Tuesday the 29th October, you can only call them Tuesday to Thursday between 8:30am and 12 noon and the letter advises to speak to a specific person. The phone was answered and I asked for the specific person and was advised "I don't think "name" works here with us". I couldn't handle that, a well person would of been able to challenge that response by explaining the letter they had in their hand but at that point I couldn't. I tried the number another seven times over the next 2 days and it was always engaged. I had now missed that weeks window to call.
On the 5th November I called the number again and asked for the specific person the answer I got was ""name" doesn't work here". This time I had more about me, anger, and explained the letter I had. I was advised the specific person worked elsewhere and was given the correct phone number. So I called the new number I now had, there are details in this phone call that for now I don't want to include, but the basic details being the letter had been sent out by someone else on the wrong letter heading with the wrong number on. Yes, a very basic mistake that anyone could make but on top of everything else not very helpful and indeed a hindrance to my mental health. The outcome of this phone call was I now had an appointment for an assessment on the 11th November. The person I did speak with, eventually, was fantastic very helpful and I received the letter the next day.
11th November I went to my assessment, the lady I saw was brilliant. These people are very good at what they do she managed to get me to talk about things I hadn't talked about before and realise things I hadn't thought of before and this is within an hours assessment. Another fantastic professional within a pathetic, not fit for purpose system. We discussed various therapy options and at the end of the assessment she advised she would write to me and recommend I had a certain type of therapy which I was happy about. I then asked "what is the waiting list time" and was told it would probably start in January……. hence the title of this post "You need therapy the queue is 2 months".
I have complained again, I don't like complaining and it probably sounds pathetic but it is very difficult to write complaints and make phone calls when not well. i started this post at about 10:30 this morning and it is now 15:36. I don't want to jump any queues, in fact my Dad has offered to pay for a private psychiatrist appointment, but I believe I have to see this through. This may be me being delusional but I want to do all I can to ensure other people receive better treatment in the future.
The government want people off benefits and in work, I have a job but I am signed off and my SSP runs out at the end of this year at which point I will have to claim for ESA. I don't want to be on benefits but another one of the governments "systems" is ensuring I will be on benefits for a while.
Thank you for sticking with this post, i'm sorry it goes on and on but I will end it with a simple question…….
Is the above acceptable?
Keep smiling

I followed this up with: –
What I wrote in November 2013 and have just read to you is not exactly a positive endorsement of the NHS. I'm sure many of you have similar stories (I'm currently in an 18 week waiting lists for psychology, which has so far taken 22 weeks…. I have an assessment next week and have already been advised in the letter offering me the assessment,  "there will be a wait of a few months before this will begin"….
I hear stories like this and worse all the time, in fact on Wednesday this week I had a message from someone who is concerned about a friend who is very depressed and suffering big panic attacks and her counselling doesn't start until February.
So I'm standing here in front of a fair number of people from Dudley & Walsall Mental Health Trust, people from the council and a number of Third Sector groups and I'm being very negative.
The reason for this is to introduce what I and a lot of people believe is one of THE ways forward and that's PEER SUPPORT, we MUST have peer support setup from start to finish as soon as someone's GP says I'm referring you to a counsellor, if the wait is a matter of weeks or months Peer support is very important and it must be made available to everyone.
Peer support can be a group of people meeting, it can be one on one meetings, it can be social media, it can be available and should be available in as many formats as possible. We don't all fit into a perfect box, we are all individuals and all our needs are individual and the professionals should NEVER forget that and we have to make sure they NEVER do.
I run a group called "exboozehounds group for men" down at the Hope Centre in Halesowen, it bothers me a bit that it's a group solely for men, but for some it has to be this way to allow the guys and me to be completely open and honest…. Who knows moving forward I could setup a group for all if there is a call for it and I'd be happy to do that….
As I said when I first spoke " I don't even want to imagine where I would be right now after my mental breakdown in June 2013 if I hadn't been inspired and chose to fight back and never stop fighting, possibly in a loony bin or more than likely dead (not a nice thing to say but still very important to talk about openly)" They say the hardest thing is to ask for help…. well "they" whoever they are are very wrong…. The hardest thing is to ask for help and receive nothing or be told you will get some help but it won't be for at least 2 months.
At the very first meeting putting today together there were 2 "service users", me and one other. This brave guy spoke up and said he was getting no help whatsoever, he was neither in primary or secondary care and he felt completely and utterly lost…. sitting on his right was someone from Primary Care and on his left was someone from Secondary care and both these people said they would look at his file…. Since then I have spoken with this guy and he has visited my group, because he was strong and brave and spoke out in that meeting he is back in the system and being offered therapy and support. For me there is no bigger endorsement for peer support than that….
I'm gunna end with my current mantra.
We have to own our illness and more importantly we have to own our recovery, we can't sit back and wait for the NHS to fix us we have to fight back for ourselves and find the help we need and the help we need NOW…. not in 6 weeks or 3 months…. NOW. Believe me I know how hard this is, the effort it takes for me sometimes to attend meetings and speak out actually makes me un well, but also sitting at home and festering makes me un well as well…. personally I would rather be un well because I've tried to do something positive for myself or someone else.
This is where my motto comes in a motto  I am very proud to say there are people all over the world that have told me they use my motto on a regular basis….
"enjoy the good and ride out the bad"
We KNOW bad times will come, that's part of the game we play with our demons but we also know that every time we have played that game we have won. We know we have won because we are here and when those demons try to destroy us again and again in the future we will win again and again and again….
For me Peer support is all about "us" and "them" working together, owning our recovery and helping us realise we are not alone….
Fortunately my 30 minute slot seemed to go down pretty well, no-one fell asleep or started throwing things at me anyway….
As well as then going through the scoping exercise with the 7 questions above we were very fortunate to have a lady called Amanda from Wolverhampton Voluntary Sector Council who gave an overview of the Mental Health Self-Support Groups they have in place and have been working with for 20 years. I think it is safe to say people in the room were very impressed with the dedication and the results achieved in Wolverhampton. I've spoken with Amanda since and today when I spoke with someone from secondary care at Dudley & Walsall Mental Health Trust I stated the obvious that we should ensure we continue to speak with Wolverhampton VSC and learn from them.
We then had an overview of what the people in the room had said in answer to the 7 questions and any other comments there was some amazing stuff, people really got involved. After another period of discussions the question was put to the room "can we have a show of hands of those here who want to be involved in these Peer Support meetings moving forward?" The response was amazing, over 3/4's of the room put there hands up, bloody amazing!!!! it then came back to me to close the meeting, I'd forgotten I was supposed to be doing this and fortunately for everyone in the room I hadn't prepared anything, or perhaps unfortunately as I do have a tendency to go on a bit…. I closed the meeting with a massive amount of positivity, to have seen how involved everyone had got and how many people wanted to continue the journey was truly satisfying and amazingly positive for the near and distant future of Mental Health well being in Dudley & Walsall.
During the breaks I was introduced to some really brave people who had gone through a lot of anxiety and stress to get to the meeting a number of them will be hopefully coming to "exboozehounds group for men" at The Hope Centre. I have phoned someone since Friday who was at the meeting but left early due to anxiety, I also spoke with someone who's husband is pretty much housebound due to depression and anxiety and I've said I will go and see him at home. These are two more examples of Peer Support, Peer Support can be one to one, face to face, on the phone, social media, groups of people together, there really is no limit to what Peer Support can do and can be.
To bring all this back to reality, although I am very proud to have been involved in this meeting as much as I have it has had an adverse effect on my health (not after sympathy!!). Over the weekend I have done an awful lot of sleeping, although I was very happy to be able to go to the cinema with my brother and nephew on Saturday, I really enjoyed that but as soon as I got home I had an overwhelming feeling of depression (again not after sympathy!!) just being honest and realistic. For me a lot about being in control of our mental health issues is keeping on a level, this in part is done with medication, every time there is a high point in my life it is followed by what feels like a very low point, when in fact it is just the process of coming back to earth, back to reality, back to the level we get used to. Just like in a "Normals" life there are ups and downs we need to recognise this and develop more and more coping mechanisms to deal with the perceived down before it gets out of control.
Thank you for making it to the end of this post, I hope you found it interesting and inspiring….
Mantra time again….
"We have to own our illness and more importantly we have to own our recovery, we can't sit back and wait for the NHS to fix us we have to fight back for ourselves and find the help we need and the help we need NOW…. not in 6 weeks or 3 months…. NOW."
"enjoy the good and ride out the bad"
Keep going 😉
Jon aka exboozehound
@exboozehound
www.exboozehound.co.uk
Oh and don't forget my Thingymajig (memoir/book)